Humanities Symposium
2017-2018 Symposium: Juvenescence/Obsolescence: Humanities Approaches to Aging Across the Ages
The theme of our 2017-2018 symposium is Juvenescence/Obsolescence: Humanities Approaches to Aging across the Ages. There have been events all year long on the topic of age. This includes a humanities collaboration reading group; a yearlong talk series curated by MHC faculty board member Frédéric Rondeau: "Life of Ideas, Notions, and Concepts" which will include a fall panel, spring panel, and guest speakers Enzo Traverso and Éric Méchoulan; a two day event on "The Analog Age" with special guest Damon Krukowski; an examination of the book Juvenescence; lectures; class tie-ins; events during digital humanities week; and a focus on age during the pre-performance lecture series.
---
Past symposia
2016–2017 Saga and Story: An Interdisciplinary Exploration from the Vikings to Our Time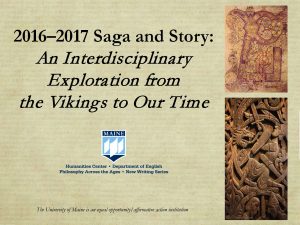 Organized by Sarah  Harlan-Haughey (English/Honors) and Joel Anderson (History), this year-long symposium investigated and analyzed the importance of medieval narratives in historical context as well as in contemporary fiction. There have been lectures by Harvard scholars Joseph Harris and Stephen Mitchell, a graduate student conference and a reading group, as well as several course offerings connected to the symposium's theme. In March Svanhildur Óskarsdóttir from The Árni Magnússon Institute for Icelandic Studies spoke on Njal's Saga, and in April the symposium concluded with a gala event: a two-day conference on the Icelandic writer Halldòr Laxness.
See below for the events from the 2016-17 Saga and Story Humanities Symposium.
2015-2016 Symposium: Black Mountain College.
Organized by Professor Steve Evans.
Thursday-Saturday, October 22-24, 2015
Black Mountain College Symposium. This major public conference brings together UMaine and national scholars to discuss the impact of Black Mountain College (BMC) upon the visual arts, poetry, educational reform, and democratic theory. It will be followed by a bus trip to a BMC exhibit at the ICA in Boston on Nov. 7 and coincides with related undergraduate courses taught in Fall 2015 by Steve Evans (English and National Poetry Foundation) and Justin Wolff (Art History).  For more information see article: "Symposium to focus on Black Mountain College's influence on art, humanities."