Bangor Humanities Day
Every year we take a break from the winter chill to celebrate the humanities with the Bangor community. In collaboration with area businesses, museums, and public spaces, as well as local collectives and experts, we host a day of diverse and fun events. Since 2013, The Center has sponsored Bangor Humanities Day, sometimes organizing it on our own and sometimes partnering with other groups to spearhead the day.  The event is kicked off the a Humanities Pecha Kucha the evening before followed by a day of humanities programming. Bangor Humanities Day was formally called Downtown Bangor Public Humanities Day.
For the sixth annual Downtown Bangor Public Humanities Day, The Center collaborated with the Bangor Public Library, Maine Discovery Museum, UMaine Museum of Art, Nocturnem Draft Haus, and COESPACE as host locations and Bangor Symphony Youth Orchestra, The Happening Series, Bangor Public Library, and UMaine Department of Art as event partners. Bangor Symphony Orchestra, The Collins Center for the Arts, Penobscot Theatre, Black Bear Brewery, Blaze, The Grind House, Verve Burritos, Briar Patch, Epic Sports, Mexicali Blues, The Rock and Art Shop, West Market Square Artisan Coffeehouse, and the McGillicuddy Humanities Center all donated prizes for the cultural scavenger hunt. A huge thanks to all our partners and supports and those that came out to enjoy the day!
2018 Bangor Humanities Day program details (see below for map):
Bangor Humanities Day kicked-off on Friday evening (Feb. 2nd) at 6pm with a Humanities Powered by PechaKucha event at COESPACE. Presentations topics included finding inspiration as author, medical ethics relating to death, the artwork of Franco protester Peter Archambault (an artist from Madawaska), wedding perfection hysteria, and bacteriophage.
For the big day (Saturday Feb. 3rd) there were three all day events:
A student art show (6-8pm Friday and 10am-2pm Saturday) at COESPACE.
A downtown cultural scavenger hunt with prizes given out at 6pm at UMaine Museum of Art. Locations include all of our host partners as well as the Rock and Art Shop. (See map below.) In addition to the below events, the stops included the following, with a big thank you to our community partners who created and hosted hunt activities! Science Meets Art: Maine Science Festival, Bangor Historical Society: play with a "thaumatrope", West Market Square Artisan Coffeehouse: "red mug" photo, The Rock and Art Shop: natural history search, Jewish Bangor in the Cohen Collection with Elizabeth Stevens, Civil War Maine with Brian Swartz, and "Do Your Own Genealogy" with Pam Beveridge and Deborah Roberge of Penobscot County Genealogical Society.
A StoryWalk®* of Kunu's Basket: a story from Indian Island, a children's book by local author Lee DeCora Francis that could be found in the windows of 15 downtown businesses. The title page was at the UMMA, the first pages were at Bagel Central, it wrapped up to Fork and Spoon and Verve, and ended at Epic Sports. (See map below.)
Scheduled programming for the 2018 Bangor Humanities Day started at 11am at the Maine Discovery Museum where the Bangor Symphony Youth Orchestra conducted a music and learning mini-concert followed by a petting zoo, where young ones interested in checking out instruments could do so.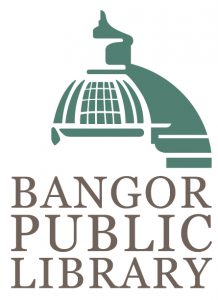 Our co-sponsor Bangor Public Library hosted the following three programmed activities in the early afternoon:
At 12:15pm, the sun filled atrium resonated with the music of a local Celtic Quartet performing Irish and Scottish tunes and songs. Pauleena MacDougall on fiddle, Nancy Neff on accordion, Cathy Segee on flute and whistle, and Daryne Rockett on harp. Located in the Library Atrium.
At 1:15, there was our Grant Workshop: an informal panel designed to help cultural workers in the arts and humanities to learn about the broad range of grants that are available to provide financial support for public cultural programs. Representatives from the Maine Humanities Council and the Bangor Commission on Cultural Development discussed their grant programs, provided tips on what makes a winning application, and answered audience questions. Located in the Crofutt Room.
Finally at 2:15, the Oral History Workshop was held. Folklore archivist Katrina Wynn walked participants through the basics of doing oral history recordings. Located in the Library Business Center.
3:15 saw programming heading over to Nocturnem Draft Haus, where the focus shifted back to performance with The Happening Series Poetry & Prose Reading. The Happening Series "are multi-disciplinary, genre-fluid, and collaborative creative events, curated and facilitated by students at UMaine."
At 5:30, the day wraped up at UMaine Museum of Art with art & hors d'oeuvres (by Basil Creek catering) and a cash bar. UMMA director George Kinghorn gave a tour of the gallery's new collections. In addition, the cultural scavenger hunt prize drawing was be held at 6:30pm.
*The StoryWalk® Project was created by Anne Ferguson of Montpelier, VT and developed in collaboration with the Kellogg-Hubbard Library. Storywalk® is a registered service mark owned by Ms. Ferguson.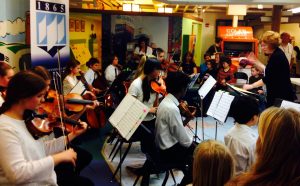 ---
Past Bangor Humanities Day posters: