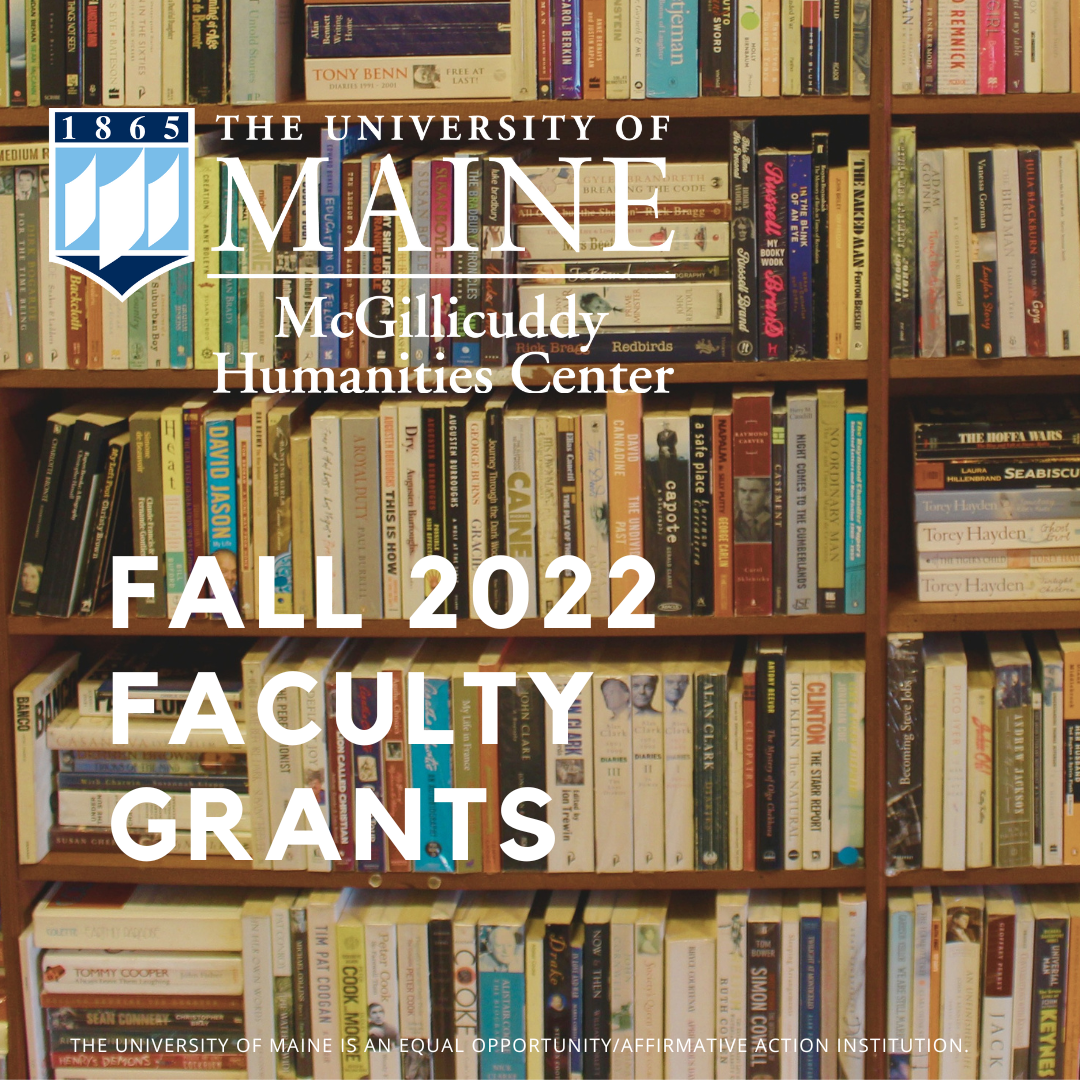 MHC Names Fall 2022 Faculty Grant Recipients
The Clement and Linda McGillicuddy Humanities Center is pleased to annouce the winners of its Fall 2022 Faculty Grant competition. The MHC provides financial support for humanities initiatives through grant programs open to UMaine faculty, lecturers and adjuncts. Recipients of Fall 2022 Faculty Grants came from departments across campus and represent scholars across their careers. Grants this semester will support travel for research, visiting speakers, and humanities programming for students, faculty, and the community.
Laura Artesani, associate professor in the School of Performing Arts Division of Music will use an MHC Grant to welcome Melissa Bragdon Caron, a UMaine music alum, back to campus to present workshops on bluegrass music and an evening concert with her bluegrass band. These workshops will be open to UMaine students and community members, including local middle and high school students. The evening concert will be a performance by Melissa and her 5-piece bluegrass band, which will be open to the public.
Louise Bourne, adjunct assistant professor in the Department of Art, received an MHC Faculty Grant for her proposal to visit and study, via drawing, sculpture, and painting, a number of specific sites with mosaics and Greek ruins in Sicily. Bourne plans to use the opportunity to enrich her studio practice and enhance her knowledge base as an artist and educator. In addition to her teaching, Bourne is an award-winning artist whose work has been featured in solo and group exhibitions in cultural centers and galleries, including Colby College Museum of Art in Waterville Maine; Gallery 61 in New York City; Anne Irwin Fine Art in Atlanta; the Greenhut Gallery in Portland, Maine; Alpers Fine Art in Andover, Massachusetts; and more.
Rebecca DeWan, assistant professor of music education in the School of Performing Arts received an MHC Grant to present two projects at the 2023 Eastern National Music Education Conference in Rochester, New York. DeWan's first session, a collaboration with Nate Menifield, Freeport (ME) High School choral director, draws on an inquiry she conducted into students' experiences with difficult conversations in a high school chorus classroom. The second session is an exploration of the effects of stress and burnout on musicianship.
Rosalie Purvis, Libra Assistant Professor in the Department of English and School of Performing Arts Division of Theatre, will use an MHC Faculty Grant to adapt Nobel Prize-winning poet Rabindranath Tagore's play The Post Office for a University of Maine mainstage production in 2023, as well a developing an interdisciplinary course for students to accompany the production. The play's rich history of global interpretation epitomizes how theatre can respond to political unrest and bring communities together.
Judith Rosenbaum-Andre, associate professor and chair of the Department of Communication and Journalism, is recipient of a grant to support a campus visit by Sanne Tanboer, a media and news literacy expert at Radboud University (Nijmegen, the Netherlands). Funding will support three events: a research presentation for faculty and graduate students at the CMJ Colloquium; a presentation for undergraduate and graduate students in the Media Studies capstone course; and a campus-wide workshop utilizing the Bubble intervention organized in conjunction with Fogler Library.
MHC Faculty Grant recipient Susan L. Smith, Associate Research Professor of Art and Graduate Coordinator, Intermedia Program, has been invited to conduct art based research as part of an ongoing project of site based soil and water sampling of PFAS contamination. Smith's project (which was recently featured in the Bangor Daily News) involves travel to Atlanta, GA to work within the community, where PFAS contaminants have reached new levels, collecting narrative, samples, and video documentation as part of current work with UMaine PFAS researchers in environmental engineering.
Finally, Karyn Sporer, associate professor in the Department of Sociology, will use her MHC Faculty Grant to develop a faculty-led Study Abroad program in partnership with the Global Education Office at Universidade Católica Portuguesa (UCP) in Lisbon, Portugal. Students in this immersive, experiential program will study Portugal's innovative and path-defining approach to their 1990s opioid and overdose crisis in contrast to the path followed in the United States. The program will be created and coordinated in collaboration with UMaine faculty member Rob Glover (Political Science), in close consultation with partners at UCP.
For more information about the McGillicuddy Humanities Center or its faculty grant program, contact mhc@maine.edu.