Announcing the inaugural MHC undergraduate fellows:
We are happy to announce the selection of the inaugural cohort of Clement and Linda McGillicuddy Humanities Center Undergraduate Fellows, and to solicit applications for the next cohort of fellows, to begin in spring 2019.
The McGillicuddy Humanities Center Undergraduate Fellows program offers junior and senior humanities students the support needed to concentrate on their coursework and develop research projects, work collaboratively with a select group of peers, participate in interdisciplinary humanities programs, and gain professional skills. Fellows attend, help plan, and promote the Center's various programs, putting them in meaningful contact with their peers and faculty, as well as the public. Fellows also act as student representatives of the Center's mission on campus and in the community.
Our MHC Undergraduate Fellows are Kimberly Crowley and Nicholas Rotter-Weller, both seniors: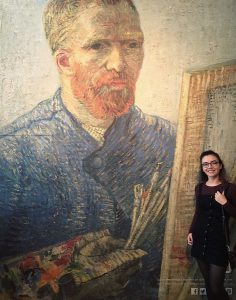 Kim Crowley is an English major concentrating in Professional and Technical Writing with a minor in Marketing.  She is from Newport, Oregon, but has lived in Maine since 2014. Her humanities project is her honors thesis "The personal is poetic: a case for poetry therapy" which is about poetry writing as a therapeutic process. She is interested in pursuing a career in nonprofit administration with a focus in communications and fundraising, hopefully for an arts-focused or environmental nonprofit.  She also hopes to continue publishing her poetry, aiming for a collected volume of her works.  Kim anticipates that the fellowship will allow her time to deepen the work on her thesis topic, and to engage others in the campus writing community in exploring how poetry writing can act as self-help.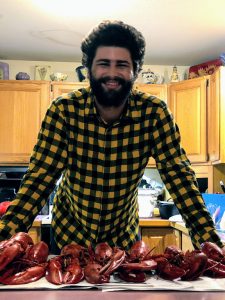 Nick Rotter-Weller is an English major with a focus in analytical writing and a minor in Political Science.  Nick is from Los Angeles County, where he attended Los Angeles Harbor College for three years; he transferred to UMaine to finish his BA and to experience a new region of the country. His project is his capstone, an interpretation of Arthur Miller's play A View From the Bridge that seeks to escape the 20th-century ideological binary of capitalism vs. communism. He has applied to the MA in English at UMaine and hopes to pursue a career in teaching English at the college level.  Nick is eager to do more independent research on his topic, and to create panel opportunities involving his fellow students for presentation to campus audiences.
Interested in applying? Our application form can be found here.