Adaptive Outdoor Education Center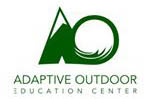 The Adaptive Outdoor Education Center (AOEC) is a nonprofit organization providing outdoor recreation, adaptive equipment, and education opportunities to all people with disabilities, including autism. AOEC offers a fully accessible facility as well as low-cost, hostel style accommodations for overnight stays in beautiful Carrabassett Valley, Maine.
AOEC was established in early 2016 to enhance the quality of life for all people with disabilities through adaptive recreation and education opportunities, while also being a resource for the general public. Activities span the four seasons and include Alpine Skiing, Snowshoeing, Climbing, Hiking, Fishing, Biking, Sailing, and Arts and Crafts, and more!
A MAIER Family Partnership parent shared her experience with her family at AOEC in MAIER's Places and Spaces Directory writing, "AOEC is a wonderful place with outdoor activities available to people with disabilities. Our son enjoys skiing, indoor rock climbing, and staying at their lodge (bunkhouse style). Their adaptive ski program is free for ages 4-14 for two lessons at Sugarloaf."
Visit the AOEC website  to learn more about all the exciting outdoor opportunities in a caring and supportive setting. Maine Bound Adventure Center at UMaine and EVO Rock and Fitness in Portland have teamed up with AOEC to offer adaptive climbing sessions in other parts of the state as well, so check out the Horizons Climbing Program online.
To learn more about recreational opportunities and events around the state that others have recommended for families that include a family member with ASD, check out MAIER's Places & Spaces Project on our webpages.