New Sexuality Education Resource available from MAIER
Teaching children about sensitive topics such as private body parts, changes during puberty, and healthy relationships can be difficult for a parent of any child, but for families that include a child on the autism spectrum, there are special concerns and sometimes the need for specially developed tools to introduce topics and begin conversations. MAIER's graduate assistant, Taylor Roos, has developed a new graphic resource especially for families, educators, and support personnel to direct you to research-supported tools and information for sexuality education.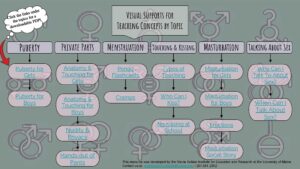 MAIER's Sexuality Education Resource will link you to a variety of resources, all in a handy graphic to lead you through topics and conversations, many specifically developed for families of children, teens, and young adults with special learning needs. Check out this new resource, which includes links to helpful videos, visual supports, curricula, and toolkits, then share with others to help spread the word!
[View and/or download Sexuality Education Resource here]