"Autos for Autism" promotes autism awareness while fundraising for MAIER
This past winter the Mid-coast Business Development Group (BDG), an association of independent automotive service and repair businesses located on mid-coast Maine, contemplated how they could join forces to give back to their community. They settled on the idea of supporting a Maine autism organization during Autism Awareness month in April. After doing some research, Meg Lewis, Vice President for the business group, reached out to MAIER to learn more about our family and community outreach. After hearing about the MAIER Family Partnership (MFP) activities, resources, and projects, the group voted to make us the recipient of their fundraising efforts for 2019.
The enthusiasm and work of the Mid-Coast BDG was inspiring! The group designed and printed posters and donation cards to encourage customers to consider donating to the cause, while MAIER supplied autism fact sheets and MAIER brochures to display at the participating businesses. Several businesses generously added their own donations toward the fundraiser with special sales or matching gifts. Together the group raised $3200 for the cause!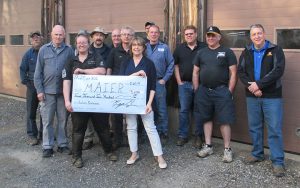 Thanks to the kindness and efforts among the Mid-Coast BDG, communities along midcoast Maine learned a bit more about autism and its impact on individuals and families, while supporting MAIER's family and community outreach efforts. We are especially grateful to Meg Lewis for all her work in spearheading this effort, and we offer our heartfelt thanks to the businesses that participated and community donors who supported the fundraiser!