MAIER Families shine at Indoor Climbing Event!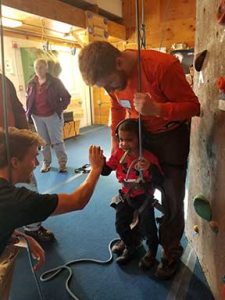 Twelve MAIER families gathered at the Maine Bound Adventure Center on Sunday November 18th to challenge their courage and their strength on the center's climbing wall in an event especially for families impacted by autism spectrum disorders (ASD). With the help of volunteers specially trained to assist persons with physical or cognitive differences, kiddos of all ages (and some parents as well) donned their climbing shoes and harnesses and faced the challenge head on, while family members and volunteers stood by to cheer and encourage their progress.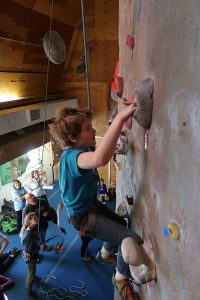 This fun event was hosted by MAIER's Family Partnership (MFP) program in partnership with the AOEC Horizon Alpine Climbing program and Maine Bound Adventure Center at the University of Maine. Maine Bound offers an adaptive climbing program twice a month throughout the academic year in partnership with AOEC. FMI on this program, visit the AOEC website: https://www.adaptiveoutdooreducationcenter.org/climbing
To see full story, along with more photos from the event, visit our MAIER Family Partnership page.