Road Map to Services Brochure now available!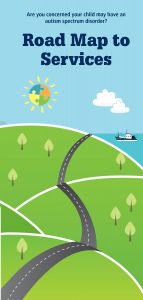 Recognizing the early signs of an autism spectrum disorder (ASD) and knowing how to obtain needed assessments and services can be a daunting task for parents and caregivers. A new brochure produced by the Maine Autism Institute for Education and Research (MAIER), "Road Map to Services," helps guide Maine families through this process.
"Road Map to Services" provides information on the early signs of autism in the areas of communication, social skills, and restrictive or repetitive interests as early as 12-18 months. In addition, it offers guidance to obtaining necessary assessments and to getting connected with related services and supports available in Maine. For parents who are concerned about their child's development, this brochure can provide that important guidance toward obtaining the help and early intervention that will support their child's development.
This colorful and easy-to-read brochure was developed through a partnership with the Maine Department of Education, Office of Special Services, and is available free of charge to any individual or organization in Maine concerned with the development of young children.
Contact MAIER by phone (207-581-2352) or email to order a print copy or to order copies for your office or organization.