New Autism PSA and Film Festival!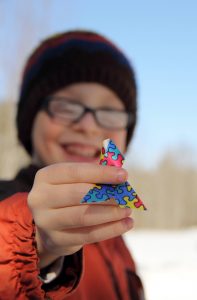 April is Autism Awareness month, and the Autism Society of America has partnered with AMC Theaters to launch a new Public Service (PSA) announcement campaign and to premiere their first ever Autism film festival, "Aut Fest," in Orange, CA April 22-23rd.
The PSA will show in AMC theaters nationwide during the month of April to increase "public awareness about the day-to-day issues faced by people on the autism spectrum." This animated PSA was created by Dani Bowan, an accomplished animator and individual on the spectrum. To learn more about the PSA and view it online, visit the ASM website.
The Aut Fest will screen nine feature-length films to highlight the important value of persons on the spectrum play in our communities, while encouraging filmmakers to promote strong roles for characters with autism in film. Festival organizers also seek to encourage individuals with autism to consider jobs in the film industry and inspire filmmakers to consider persons with autism in all aspects of filmmaking.
Festival films include: The Accountant (followed by a Q&A with honoree Ben Affleck), Asperger's Are Us, Inside Out (followed by a Q&A with the filmmakers Pete Docter and Jonas Rivera) and the Oscar-nominated documentary Life, Animated. To learn more about the Aut Fest, and to see the full list of the festival's films, see their website.