Channel 5 News in Bangor airs story on MAIER's Parent Guide to ASD
Channel 5 news reporter Caitlin Burchill visited us last week to learn more about MAIER and to help us spread the word about our newly published Maine Parent Guide to Autism Spectrum Disorders. The story aired last Thursday night and is posted to the WABI website.
Felicia Kasprzak and Roy Ulrickson III, two Maine Family Partnership (MFP) parents who helped create the guides, joined us for the interview. Together they shared their own family stories and their perspectives on the value of the Parent Guide for them and for other Maine families affected by ASD. Learn more about the Maine Parent Guide to ASD .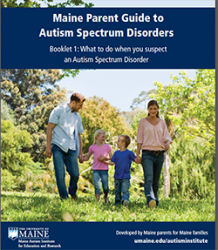 A huge thank you to Felicia and Roy for representing MAIER and the MFP so eloquently on our first ever television interview! The parent guides are available now to download free from our website. Due to financial support from the Maine Department of Education, Office of Special Services, Maine families can receive free print copies of the guide by contacting us by email or phone 207.581.2352.