Boat Design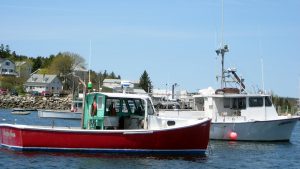 Lobster boats, as the name implies, are particularly suited to the needs of the lobstermen. However, they have been used for other purposes, including as pleasure craft; research vessels; and for other fisheries.
There are some variations in the types of lobster boats typically used in the lobster fishery. They can have outboard motors, inboard gasoline motors, or inboard diesel motors. Shorter, smaller boats (14-22 feet) are used by those who fish a smaller number of traps (typically young people getting started or recreational license holders). Longer, larger boats from 22-45 feet are used by most inshore lobstermen who make their living harvesting lobsters. Even larger boats are used in the offshore fishery, where lobstermen will go out to sea for several days at a time.
Standard characteristics of a working inshore lobsterboat include a single engine; a low trunk cabin; a standing shelter, usually close to midship, with an open cockpit aft (behind it); and sloping rails (downward from bow to stern) to allow for a shorter distance from water to rail (freeboard) in the back half of the boat for easier hauling of traps.
Most modern lobsterboats are made of figerglass and are equipped with an hydraulic trap hauler, a CB radio and/or a VHF marine radio telephone, a depth sounder, and radar.
An excellent source for more complete information about the design and building of lobsterboats is the book Maine Lobsterboats: Builders and Lobstermen Speak of Their Craft by Virginia Thorndike (1998, Down East Books, ISBN 0-89272-403-X)