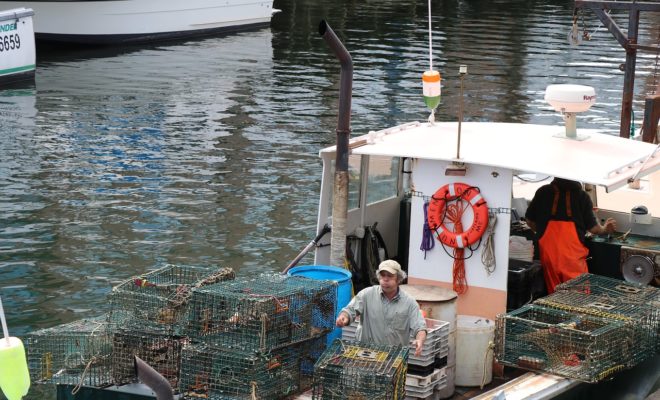 Lobsters in the News December 18 – January 1
December 30
December 29
December 28
December 27
December 24
December 23
December 22
December 20
December 19
December 18
John A. Knauss Marine Policy Fellowship Program

The Sea Grant Knauss Fellowship provides a unique educational and professional experience to graduate students who have an interest in ocean, coastal and Great Lakes resources and in the national policy decisions affecting those resources. The Fellowship, named after one of Sea Grant's founders and former NOAA Administrator John A. Knauss, matches highly qualified graduate students with "hosts" in the legislative and executive branch of government located in the Washington, D.C. area, for a one year paid fellowship.

The application period for 2023 fellowships is now open!

Contact your state Sea Grant program to begin the application process.

Review the 2023 Knauss Fellowship Student Guide and the Student Applicant Guide to Sea Grant Fellowships for application preparation tips.

Email the National Sea Grant Office with any questions. 
The National Oceanic and Atmospheric Administration (NOAA) has issued its Fiscal Year (FY) 22 Phase I Notice of Funding Opportunity (NOFO) for the Small Business Innovation Research (SBIR) program.

NOAA has issued its Fiscal Year (FY) 22 Phase I Notice of Funding Opportunity (NOFO) for the Small Business Innovation Research (SBIR) program. NOAA Phase I SBIR awards provide up to $150,000 with up to a six (6) month period of performance for conducting feasibility and proof of concept research with a tentative award start date of August 1, 2022. NOAA encourages proposals from qualified small businesses for highly innovative technologies with strong commercial potential that fit within the NOAA mission areas.

To be eligible to submit a Phase I application, small businesses must submit a required Letter of Intent via this form by December 13, 2021 at 11:59 pm (ET). In response to submission of the Letter of Intent, the NOAA SBIR program will provide feedback indicating if an application is likely to be nonresponsive to the NOFO. Instructions for submitting the Letter of Intent are available in the Notice of Funding Opportunity.

Full applications for Phase I must be submitted through grants.gov by February 18, 2022 at 11:59 pm (ET).
The NMFS-Sea Grant Joint Fellowship Program in Population and Ecosystem Dynamics and Marine Resource Economics places Ph.D. students in research-based fellowships that provide support for up to three years. The program is designed to fulfill workforce development needs identified by the NOAA National Marine Fisheries Service (NMFS) and since 1999, has provided opportunities for 151 Ph.D. students.

The opportunity to apply for 2022 fellowships is now open. Applications are due to Sea Grant programs on January 27, 2022.

Follow this link to learn more about the fellowship program

Get started on your application with:

Questions? Contact your local Sea Grant Program or the National Sea Grant Office at oar.sg.fellows@noaa.gov / (240) 507-3712.

Please share this opportunity with colleagues, friends and potential applicants!
Stay informed
To subscribe to news roundups from other organizations use these contacts: