2018 CLAS Awards
Wednesday, April 25 –
The College of Liberal Arts and Sciences (CLAS) was pleased to hold their annual awards ceremony, honoring outstanding students and faulty. This year, CLAS was proud, not only to recognize outstanding students, but to recognize the Class of 2018 Valedictorian, Graham Van Goffrier. Graham is graduating after his four years with a Bachelors degree in Physics, and minors in electrical engineering, mathematics, and nanotechnology, as well as receiving a Masters in Electrical Engineering. He is headed to Cambridge following graduation, and is surely representing CLAS well.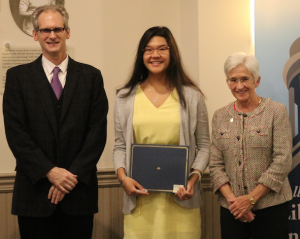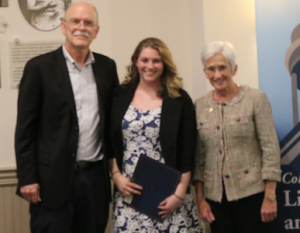 The 2018 Outstanding Graduating Senior awards we given to Katelyn Manzo, Computer Science, who's extensive work in lessening the gender gap in computing, as well as her leadership and academic merits, earned her high praise from her department and the College. Aliya Uteuova, the Outstanding Graduating Senior, International Student is a Political Science and Journalism double major, who is fluent in multiple languages, has interned for the Attorney General and the State House, held the position of Editor at the Maine Campus newspaper, all of this is on top of her impressive academic achievements.
The Outstanding Graduate Student awards followed. Aaron Nicholas, Chemistry, received the Research and Creative Activity Award for his unwavering dedication to finding a solution in his research. Aaron is an armed services veteran who hopes tocreate a sensor that can detect chemical attacks and save the lives of soldiers in combat. The graduate Teaching award went to Abigail Roche of Communication and Journalism. Liliana Herakova introduced Roche in saying she has a special way of listening to her students that cultivates an environment of growth and confidence. Benjamin Schermerhorn, Physics and Chemistry, received the Graduate Award for Outstanding Graduating Student for his tireless efforts as a TA, inspiring confidence in his first year Physics Students. Prof. John Thompson who introduced Ben said that on average, the students he assisted in his time as a TA, scored 5-10 points higher than the rest of the class, adding that he always volunteers to grade tests and assist the faculty in any way that he can.
Faculty recognitions began with the presentation of the Teaching/Advising Award, presented to Rob Glover, Political Science and Honors. Prof. Jordan LaBouff spoke about his mentorship and community engagement citing the work he and his students have done for the city of Bangor and beyond. He also mentored Rep. Trey Stewart, the youngest legislator serving in Maine, who spoke very highly of Glover and the real world experience he was exposed to thanks to his classes.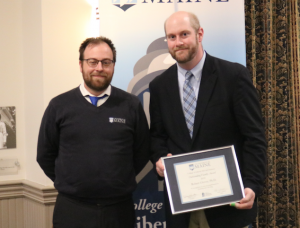 Cynthia Isenhour, Anthropology and Climate Change Institute, received the award for Service and Outreac
h. She works closely with the Mitchell Center and is highly engaged in sustainability efforts in and around the Maine community. David Hart, director of the Mitchell Center said that Isenhour was one of the most impressive faculty members he had ever worked with. She was also recognized as being promoted to Associate Professor with Tenure, and doing so a year early, which is a very notable achievement.
Liliana Herakova, Communication and Journalism (CMJ), received the first ever Outstanding Lecturer's award for her work inspiring her students and mentoring her graduate teaching assistants. Introducing her, and singing her praises were Nathan Stormer, CMJ, and three of her graduate students. They all pointed to Herakova's kindness, intelligence, and ability to see all sides of any issue as why she was deserving of this honor.
Finally, Michael Socolow, CMJ, was honored as an outstanding faculty in Research and Creative Achievement. Socolow has been nationally and internationally recognized for his work on "Six Minutes in Berlin" highlighting the social and journalistic implications surrounding the "Nazi Olympics." Socolow regularly is cited in national journals as well as on radio and online. He was also recently appointed to the Library of Congress as a fellow dedicated to the preservation of broadcast journalism.
Also recognized at these awards were promoted faculty.  Cynthia Isenhour, Anthropology and Climate Change Institute, Gregory Ondo, Art, Micah Pawling, History and Native American Studies, and Laura Rickard, CMJ, were all promoted to Associate Professor with Tenure. Alice Bruce, Chemistry, Nicholas Giudice, Computing and Information Science, and Kirsten Jacobsen, Philosophy, were all promoted to Professor.
To end the program, the Senior Recognition Awards were given out, showcasing one senior from each department who's achievements and involvement made
their time at UMaine invaluable to their departments. Lastly, the James S. Stevens Outstanding Junior Awards were awarded, concluding an evening of celebration and honor the hard work of the College of Liberal Arts and Sciences students and faculty. The Senior Recognition and Junior Awards will be listed below.
A special thanks to the Awards Committee, Daniel Barrett, David Batuski, Timothy Cole, Kirsten Jacobsen, Margaret Lukens, Jessica Miller, Daniel Sandweiss, and Natasha Speer. Also to Tonya Corriveau, CLAS Staff who put this ceremony together.
Senior Recognition Awards:


Anthropology – Johanna Lunn
Art – Megan Ogden
Chemistry – Matthew Clark
Communication and Journalism – Cleo Barker
Computing and Information Science – Justin Norman
English – Ryan Stovall
History – Abigail Belisle Haley
International Affairs – Jill Hein
Mathematics and Statistics – Lori Loftin
Modern Languages and Classics – Julia Fasano
New Media – Hannah Karas
Music – Dana Douglass
Theatre / Dance – Isabella Etro
Philosophy – Malik Robinson
Physics and Astronomy – Samuel Borer
Political Science – Anthony Crawford
Psychology – Meaghan Delcourt
Sociology – Sociology
Women's, Gender, and Sexuality Studies – Lori Loftin
James S. Stevens Outstanding Junior Awards


Lydia Balestra – English
Emma Barnes – English
Brawley Benson – International Affairs
Lucie Bonneville – International Affairs
Caden Brown – Studio Art
Cole Butler – Mathematics
Micaela Ellis – Music Education
Lydia Ewell – History
Keely Gonyea – Media Studies
Raegan Harrington – Psychology
Taylor Houdlette – English
Madalyn Jackson – English
Rachel Johnson – Psychology
Parker Lambert – History
Cara Morgan – English
Kylie Palmer – English
Tiffany Tanner – International Affairs
Isaac Tremblay – Computer Science
Sarah Wagner – Communication
Michelle Ward – Psychology