UMaine Judaic Studies Events 2022-2023
It's been a long and busy academic year for UMaine Judaic Studies! In 2022-2023 we hosted seven public events.
September 15th 2022, Dutch historian David Barnouw spoke on "Who Betrayed Anne Frank and Who Owns her Legacy?" 
December 4th, 2022, Vicki Summers performed her one-woman play "Bella, An Immigrant's Tale" about the life of her grandmother who immigrated from Ukraine to the United States in the early 20th century.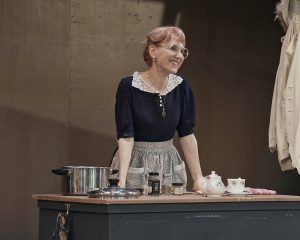 February 28th, 2023, Rabbi Beth Lieberman presented "Goodbye, Lord: How We Changed God's Pronouns in the Hebrew Bible and Why It Matters" about the upcoming JPS Gender Sensitive TANAKH. 
March 30th, 2023, we hosted a MJFF screening of "My Name is Andrea" followed by a panel discussion with Tamar Perfit Mathieu (Rape Response Services & Penquis) and Amanda Cost (Partners for Peace). 
April 17th, 2023 Professor Anne Knowles (UMaine, History) gave a talk on "Landscapes of Remembrance." 
April 20th, 2023 we hosted a MJFF screening of "Four Winters" followed by a panel discussion with Anne Knowles and Erica Nadelhaft (Education Coordinator, HHRC). 
April 25th, 2023 Rabbi Rachel Isaacs spoke on her experience moving to Maine and the work of the Center for Small Town Jewish Life at Colby College.