Annual Awards to New International Graduates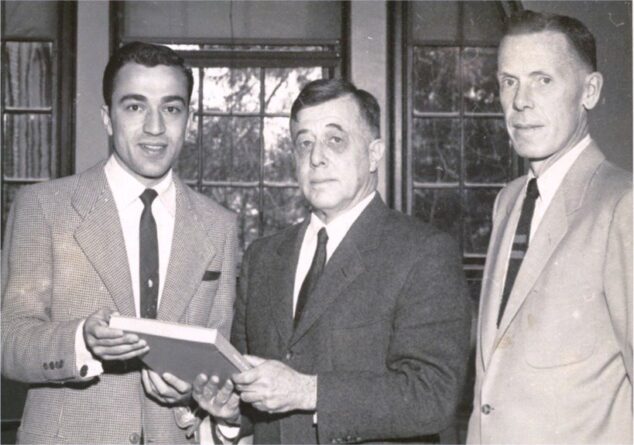 Pictured is Dr. Taiganides [left] with the then associate dean of Agriculture Dr. Libby [right] and the then president of the University Hauck [middle]. Dr. Taiganides was very close with these men, he and the president would walk together cleaning up the campus on Maine Day. Dr. Libby ended his tenure at UMaine as president of the university.
President Winthrop C. Libby/Reverend Pavlos T. Taiganides Award
The President Winthrop C. Libby/Reverend Pavlos T. Taiganides Award was established at the University of Maine in 1994 by Professor E. Paul Taiganides in memory of two of his mentors.  The award is given to the international student who has contributed the most in international relations on the campus and in the University community through participation in student activities, scholastic achievement and moral leadership. 
In 1953 there were only seven UMaine students that were from abroad excluding Canadians, who did not consider themselves foreigners. E. Paul Taiganides was very active on the UMaine campus during his time as a student. Taiganides has elected VP of his class sophomore year, elected Winter Carnival king, was selected Senior Skull, and was in the running for a watch award for the best student graduating.  Taiganides got involved in the UMaine and greater community. Taiganides cherishes his four years in Orono and the Greek community in Bangor. 
---
2021-2022 Scholarship Recipients
Betelhem Abay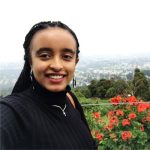 Betelhem "Beti" Abay volunteered numerous times for events such as new student orientation, Culturefest, and danced at the International Dance Festival. She worked as a Team Maine Student Ambassador and as an Alumni ambassador. Beti is from Ethiopia, and served as the President of the African Student Association and offered community events to educate about the diversity and richness of countries on the African continent as well as create a strong community by bringing together international students from African counties with refugees, asylees and adoptees from this region at UMaine. In addition to her stellar academics as a Biomedical student and completing the Honors College, she served as a Sophomore Eagles and in All Maine Women in her senior year. Beti received her master's degree in Biomedical Engineering from UMaine in 2022. 
Saman Zare
Saman is from Iran and  will complete his PhD in Mechanical Engineering in December 2022.  Despite being a busy PhD student Saman has presented himself as a leader, a mentor, a friend and a helper from the moment he arrived.  As the graduate student adviser to the International Student Association he served as a mentor to the undergraduate Executive Board members, offering advice and guidance, providing a listening ear and a dose of practical reality when needed.  As the President of the Graduate Student Government he advocated on behalf of the entire international student community raising awareness about the challenges faced by students so far away from home.  
Priyanshu Bhatta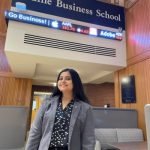 Priya is majoring in finance and will graduate in December 2022.  She is from Nepal. Throughout her time at UMaine Priya has worked hard to develop her leadership skills- holding leadership positions in the South Asian Association of Maine, organizing fellow students to dance in the International Dance Festival or cook for Culturefest, serving as a Resident Assistant and giving a helping hand at our International Student Orientations. This last year she worked in the Office of International Programs assisting the admission team with processing and communication with admitted students.  Her positive energy and outlook make incoming students feel welcome to UMaine even before they get here. 
2020-2021 Scholarship Recipients
Abolaji Akinyemi
Abolaji arrived at UMaine in the Fall of 2015 to pursue her doctoral degree.  Whether she was helping us to prepare for Culturefest, welcoming new students at Orientation or helping our Mandela Washington fellows acclimate to their new surroundings Abolaji has found a way to pitch in.  Her infectious smile and her thoughtful and insightful conversations she brought to Coffee Hour each week were heartwarming and inspiring.  Abolojie graduated with her PhD in Physics in May 2021.
Karina Iskandarova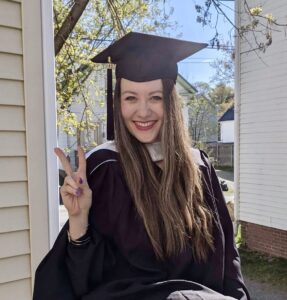 Karina began her Master's in Global Policy in the Fall of 2019. She finds her heritage in three different ethnicities and truly embodies the idea of a global citizen. Prior to UMaine she was invited many times to speak about matters of education, human rights, and US-Greece foreign affairs for a TV station in Greece and she has put to good use her skills and experience in her work as the social media assistant in the Office of Admissions, her involvement with the Graduate Student Government and many ISA and OIP events. Karina will pursue a summer internship at the United Nations. 
Abdelrahman (Bruce) Elbrolosy
Bruce was a transfer student to UMaine beginning in the Fall of 2019.  He has been a huge help to OIP welcoming new students at orientation, getting them connected and sharing all the hot tips about UMaine and Orono. Bruce has spent the last year leading the International Student Association though a pandemic.  It is not easy being an ISA leader at any given time but this year has been particularly challenging.  ISA has stayed true to its mission helping international students stay connected and feel supported throughout this difficult year thanks to Bruce and his wonderful team.
@UMaineInternationalAlumni Like us on Facebook