Holiday Greetings!
Dear UMaine international alumni, 
We hope that you, your families and your wider communities have come through this very challenging year in good health! This fall semester we welcomed 111 new international students to UMaine, a miracle in itself. UMaine academics were offered in a combination of in person, hybrid, and online. About 25 students remained outside of the US and completed their semester remotely, overcoming time differences of up to 12 hours. Our 437 international students and 10 scholars from 79 different countries were well supported by OIP and the rest of campus despite the many challenges brought on by the pandemic. The International Student Association (ISA) held several in person coffee hours and some virtual events. UMaine student life is still vibrant, but in a very different way than prior semesters. 
As the holiday season approaches and we come to the end of this year shaped by the COVID19 pandemic, we would like to thank our international students for their dedication, perseverance and resilience. We want to thank our international alumni for your continued support of international education and cultural exchange. More than ever, we believe that through international cooperation and cultural exchange world problems, like this pandemic, can be solved successfully.  
We would love to connect with you in 2021!  Please join OIP for an informal International Alumni Coffee Break on Wednesday, January 13, 2021 at 10-10:45am EST. We will send a zoom link the day before. Please share with your UMaine friends. We hope to see many of you!
Annual Awards to New International Graduates
President Winthrop C. Libby/Reverend Pavlos T. Taiganides Award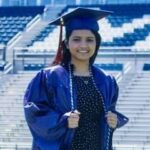 The President Winthrop C. Libby/Reverend Pavlos T. Taiganides Award was established at the University of Maine in 1994 by Professor E. Paul Taiganides in memory of two of his mentors.  The award is given to the international student who has contributed the most in international relations on the campus and in the University community through participation in student activities, scholastic achievement and moral leadership. 
Shweta Desai is the 2019 recipient of this award.Shweta is from India and will be graduating this May with a degree in Financial Economics.  Throughout her time at UMaine she has worked hard to develop her leadership skills- holding multiple leadership positions in the International Student Association and high involvement in other campus organizations such as the South Asian Association of Maine.  Shweta is well known to our office staff and her peers- always volunteering to help at Orientation, Culturefest and other office events, and of course performing Bollywood numbers at the International Dance Festival.  In short, Shweta truly embodies the qualities that Professor Taiganides set out to honor by establishing this award. 
Seyed Ehsan Tabatabaie
Ehsan Tabatabaie is the recipient of the ISA Team 2005-2006 Award. Ehsan came to the University of Maine from Iran and is completing his PhD in Mechanical Engineering. One would think that a busy doctoral student with many responsibilities would have little time for extracurricular activities and social events. On the contrary, Ehsan has immersed himself in the campus community and is the first to come forward when we call for volunteers. Whether he is assisting new students at orientation, selling drinks for ISA at Culturefest or even….and you might not guess this of him…performing a Vietnamese dance in front of a thousand people at the International Dance Festival, there seems no end to his capacity to give back to our international community. In addition, he has assisted other campus groups to get a better understanding of the issues and concerns of international students by serving on the UMaine Graduate Student Government and in other organizations. I will miss my sometimes random, spontaneous but always enlightening talks with Ehsan and hope that future students will follow his example of challenging themselves to move outside their comfort zone, try new things and make connections in unlikely places.
Naveen Saladi
N
aveen Saladi is the recipient of the ISA Team 2005-2006 Award.  Naveen arrived in Maine on a cold and snowy January day from India.  I can only imagine what he was feeling as we guided him around a dark and frozen campus during orientation.  Despite a chilly start to his studies Naveen will be graduating with his MS in Civil Engineering and I would be hard pressed to find a warmer and more caring personality on campus.  In his nomination letter ISA officers wrote "Naveen has been incredibly busy due to finishing his thesis but he still shows up to every coffee hour, every ISA and SAAM event, and helps out wherever he can when it comes to making food, lending his time for set-up, or driving around to get random things.  He will be returning to India after graduation and we know his presence will be dearly missed in the international community."  I can only echo these sentiments and say that the campus will truly not be the same without him.
Spirit of Maine Achievement Award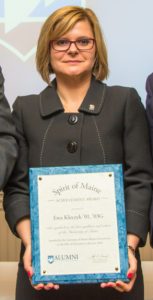 The Alumni Association's Spirit of Maine Achievement Award is given to an alumnus/alumna who has graduated in the last fifteen years and whose accomplishments, commitment, and initiative in a profession, business, or public service arena reflect the high standards and vitality of the University of Maine.
2016 Recipient
Spirit of Maine recipient Dr. Ewa Kleczyk '01, '03G was recognized for her successful career in the pharmaceutical marketing research field. As a young professional, she provides data, analysis, and other aspects of the pharmaceutical industry, and has received numerous awards and recognition. She also mentors and offers guidance to young people, both in her field and on the UMaine campus.
Ester Serrão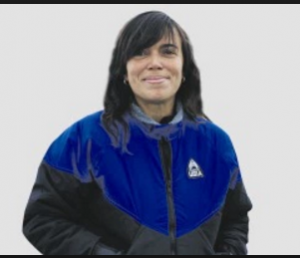 Distinguished University of Maine alumna Ester Serrão is one of 11 U.S. and international marine scientists named by the Pew Charitable Trusts as 2017 Pew Marine Fellows to "seek solutions to the problems affecting the world's oceans."
Read her research profile .
Bernard Lown '42 Alumni Humanitarian Award
The Bernard Lown '42 Alumni Humanitarian Award recognizes University of Maine graduates who distinguish themselves in their service to humanity. It is named in honor of Nobel Laureate Dr. Bernard Lown '42, who has devoted his life to world disarmament and the advancement of human health.
2016 Recipient
The University of Maine Alumni Association honored Mian Riaz with the Bernard Lown '42 Humanitarian Award. Dr. Riaz directs the Food Protein Research and Development Center at Texas A&M University and has demonstrated a commitment to sharing his expertise in extrusion technology with people in the developing world. He has coordinated numerous international workshops and symposia related to the use of extrusion technology, which can help to reduce food insecurity, and worked to improve the nutritional quality of foods for people as well as feed for animals and aquaculture.
@UMaineInternationalAlumni Like us on Facebook
Iva Jugovic: UMaine alumna shares her journey from Serbia to Switzerland
The recipient of a full-tuition scholarship to UMaine, Jugovic quickly took an interest in the health-related sciences and began working closely with Alice Bruce, an associate professor of chemistry.
Bruce became Jugovic's mentor and a strong supporter of her academic development. Under her guidelines, Jugovic began her capstone research as a third-year student and continued her project until the end of her studies.
Throughout her undergraduate studies at UMaine, Jugovic remained active within both academic and extracurricular spheres. She worked as a resident assistant, teaching assistant for organic chemistry, and Maine Learning Assistant for inorganic chemistry and pre-calculus.
Jugovic was a recipient of numerous awards including the 2015 President Winthrop C. Libby/Reverend Pavlos T. Taiganidies Award for extraordinary contributions to international relations, with additional accolades related to scholastic achievement and moral leadership. Jugovic is a member of Phi Beta Kappa, the first national honor society and Phi Mu Epsilon. In 2015, she graduated summa cum laude with a bachelor's degree in biochemistry and a minor in Spanish.
Read more of her story and interview here.
Shamarukh Mohiuddin: alumna and leader dedicated to women's economic empowerment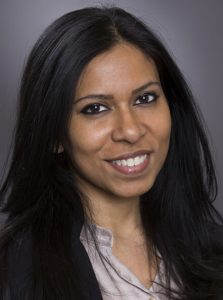 Shamarukh Mohiuddin is a self-described optimist, entrepreneur and dreamer, and has a goal of making positive social change.
The native of Dhaka, Bangladesh graduated from the University of Maine in 2003 with a degree in international affairs in economics, a second major in financial economics and a minor in studio art. Today, she is the director of the Economic Empowerment Program at the U.S. Chamber of Commerce Foundation in Washington, D.C.
"I work with global businesses to address challenges faced by society," says Mohiuddin. "My focus lately has been to help businesses design programs to support women's economic empowerment and financial inclusion."
The programs she helps design are intended to "help the business community learn about the underlying causes of social challenges and to help use their core competence in solving these challenges."
"Women still don't have equal access to economic opportunities and two billion people in the world still lack access to modern financial services," she says. So she is working to overcome these issues through her career.
Mohiuddin is inspired by "leaders who can make tough decisions and bring others along." In turn, she tries to inspire others by being a strong leader herself.
Read more of Mohiuddin's story here.