Controlled Bacterial Attachment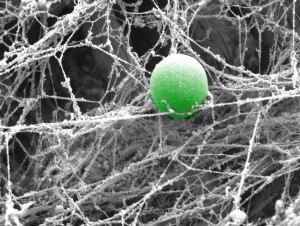 Bacteria are omnipresent in our lives, providing great benefits as our internal symbiotes as well as numerous problems as infectious agents and biofilm formers. For many relevant species, the interaction of bacteria with surfaces is one fundamental aspect of their ability to grow and function.  We seek new ways of controlling bacterial attachment and growth through the creative use of surfaces.
For more information, check out these publications:
Kovalenko Y, Sotiri I, Timonen JVI, Overton J, Holmes G, Aizenberg J, Howell C (2017) Bacterial Adhesion to Immobilized Liquid Layers. Advanced Healthcare Materials, 1600984.
Chen J, Howell C, Haller C, Ayala P, Moravec K, Dai E, Liu L, Sotiri I, Aizenberg M, Aizenberg J. and Chaikof, E. (2017) An Immobilized Liquid Interface Prevents Device Associated Bacterial Infection In Vivo. Biomaterials, 113, 80-92.
Tesler A, Kim P, Kolle S, Howell C, Ahanotu O, Aizenberg J (2015) Extremely durable biofouling-resistant metallic surfaces based on electrodeposited nanoporous tungstate films on steel. Nature Communications, 6, 8649-1-10.
MacCallum N, Howell C, Kim P, Sun D, Friedlander R, Ranisau J, O. Ahanotu, Lin J, Hatton B, Wong T-S, Aizenberg J (2015), Oil-infused silicone tubing as a biofouling-free medical material. ACS Biomaterials Science and Engineering, 1, 43-51.
Howell C, Vu T, Lin J, Kolle S, Juthani N,Watson E, Weaver J, Alvarenga J, Aizenberg J (2014). Self-replenishing vascularized fouling-release surfaces. ACS Applied Materials and Interfaces, 6, 13299-13307.