About Our Group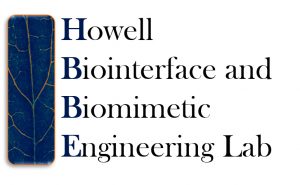 Inspired by Nature, our group works to understand and ultimately control biological systems through surface interactions and other environmental factors. Over the millennia, organisms such as sharks and pitcher plants have developed methods to keep their surfaces clean or perform specific functions such as trapping insects.  Following this example, we look to guide the interactions of biomolecules, micro-organisms, and cells using non-toxic, non-invasive surface-based methods to accomplish specific goals. Our work can be applied to medicine, where we reduce clot formation or the onset of infection; to industry, where we mitigate fouling of membranes and other surfaces to help keep people healthy. Through the development of these technologies, we also strive to understand the basic science behind biological surface interactions to provide a basis for future technologies and applications.
About Dr. Howell
Dr. Caitlin Howell is a professor of Bioengineering in the Department of Chemical and Biological Engineering and the Graduate School of Biomedical Science and Engineering.
Before joining UMaine, Dr. Howell worked Technology Development Fellow with Joanna Aizenberg at the Wyss Institute for Biologically Inspired Engineering, where she focused on developing and translating bio-inspired technology to the market. Prior to that, she completed her Ph.D. in Physical Chemistry as an NSF Graduate Research Fellow at the University of Heidelberg in Germany and her M.S. in Biology at the University of Maine. 
At UMaine, Dr. Howell works to integrate researchers all experience levels – undergraduate, graduate, and post-graduate – in an environment built on excitement for high-quality science and the good it can do in the world.
Follow us on Instagram! howelllab