---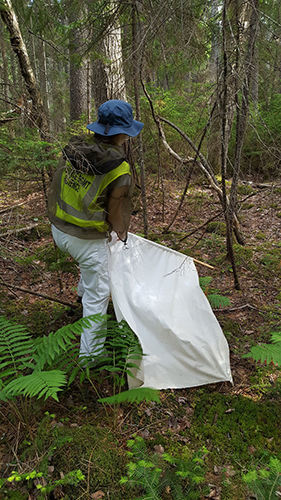 Sign Up to Volunteer as a Citizen Scientist
2022 Update
***Update: We are not currently accepting any additional volunteers as of 2022.***
2020 and 2021
We are looking for people to collect ticks on their wooded properties in Androscoggin, Cumberland, Hancock, Knox, Kennebec, Lincoln, Sagadahoc, Waldo, and York Counties. If you have between 5 and 1,000 acres of wooded land and want to know more about ticks and the pathogens they carry on your property, sign up to be part of our tick surveillance program! We will provide training and the supplies you need to collect ticks on your property. You will collect ticks using a drag cloth and tweezers three times during the month of July and fill out questionnaires about your property. This will help us understand the tick borne disease risks across Southern and Coastal Maine and better help you understand the tick hazards on your personal property. (Please note we are only able to select a limited number of participants and signing up will not guarantee your participation.) If you have questions, please contact the citizen science coordinator: Elissa Ballman, elissa.ballman@maine.edu, 207-581-2503.
Volunteer Frequently Asked Questions
Do I have to be physically fit to participate?
Sampling will involve walking within your wooded property while dragging a tick collecting cloth. There will be three collecting periods in July and each one should take about an hour. Participants should be able to walk over uneven ground, bend over, and use tweezers to pick up small ticks.
Does my property qualify to be part of this study?
We are looking for wooded properties and want to include land from a wide array of management strategies ranging from no management to intense timber harvesting. If you have between 5 and 1,000 acres and live in one of our target counties (Androscoggin, Cumberland, Hancock, Knox, Kennebec, Lincoln, Sagadahoc, Waldo, and York), you most likely qualify. If you are still unsure, please contact us and we can help you decide.
What kind of information will I get back?
You will receive a report that identifies the number and types of ticks on your property, as well as what percentage are carrying the bacterium responsible for Lyme disease. You will also get access to our project reports that summarize the densities of ticks and their pathogens across Southern and Coastal Maine.
How soon will we get our results?
This project will generate hundreds of samples and processing and testing will take significant time to complete. Samples will be processed over the  winter and results will be available by the following spring. If you have samples that need to be analyzed sooner for personal reasons (such as ticks you find attached on your family or pets), we recommend you send those to your county extension or a pay-for-service tick diagnosis company.
What will you do with our information?
Information from our volunteers will be analyzed to see what effect, if any, land management practices have on ticks and tick-borne pathogens. All data will be aggregated before it is made public. No identifiable or personal information will be publicly reported.
What tick pathogens are you testing?
We are testing for the most common tick-borne pathogen in Maine: Borrelia burgdorferi, the causative agent of Lyme disease.
How time consuming will this be for me?
Our online training session should last about an hour. We ask our volunteers to sample on three different days in July. Each collecting day should take around an hour. We also ask all our volunteers to fill out a questionnaire about how you use and manage your property. We estimate our volunteers will spend a total of 8 hours over the course of the study.
What are the risks of participating?
Anytime you walk through tick habitat, you risk picking up ticks, though a tick has to be attached for at least 24 hours before it can pass on the bacterium responsible for Lyme disease (the most common tick-related disease in the state). There is no additional risk from handling ticks using tweezers. You will not be able to wear insect repellent while using the drag cloth, so we recommend wearing light-colored clothing and inspecting yourself carefully afterwards for ticks.
Can I still participate if I don't live in Androscoggin, Cumberland, Hancock, Knox, Kennebec, Lincoln, Sagadahoc, Waldo, or York Counties?
Unfortunately, we are currently only able to accept volunteers in those listed counties. We are focusing our research efforts in areas that have the highest densities of ticks and tick-related illnesses.