Sue Ishaq
Assistant Professor of Animal and Veterinary Sciences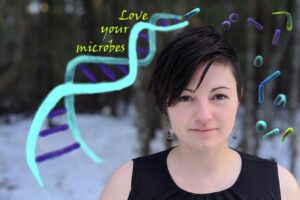 Degree: Ph.D. 2015, University of Vermont
Phone: 207.581.2770
Email: sue.ishaq@maine.edu
Location: 108 Rogers Hall
Professional Interests: The majority of my work focuses on host-associated microbiomes and understanding lifestyle circumstances which select for communities. I want to know how we can recover a stable microbial community in humans and animals which have already gotten to the point of chronic microbial community dysfunction and disease. I have three overarching research goals: 1) to better characterize microbiomes using cutting-edge technology, 2) to use this characterization to determine the relation of community structure to system functionality and homeostasis in simplified models, and 3) to develop prevention and intervention therapies which can return a perturbed microbiome back into balance in vivo.
Teaching:
AVS 254 Introduction to Animal Microbiomes
AVS 401/402 Senior Paper in Animal Science
AVS 454/554 DNA Sequencing Data Analysis Lab
Website: https://sueishaqlab.org/
Founder, Microbes and Social Equity Working Group: https://sueishaqlab.org/microbes-and-social-equity-working-group/
Selected Publications:
Ishaq, S.L., Parada Flores, F.J., Wolf, P.G., Bonilla, C.Y., Carney, M.A., Benezra, A., Wissel, E., Friedman, M., DeAngelis, K.M., Robinson, J.M., Fahimipour, A.K., Manus, M.B., Grieneisen, L., Dietz, L.G., Chauhan, A., Pathak, A., Kuthyar, S., Stewart, J.D., Dasari, M.R., Nonnamaker, E., Choudoir, M., Horve, P.F., Zimmerman, N.B., Kozik, A.J., Darling, K.W., Romero-Olivares, A.L., Hariharan, J., Farmer, N., Maki, K., Collier, J.L., O'Doherty, K., Letourneau, J., Kline, J., Moses, P.L., Morar, N. 2021. Introducing the Microbes and Social Equity Working Group: Considering the Microbial Components of Social, Environmental, and Health Justice. mSystems. accepted..
Dankwa, A.S., U. Humagain, S.L. Ishaq, C.J. Yeoman, S. Clark , D.C. Beitz, and E. D. Testroet. 2021. Determination of the microbial community in the rumen and fecal matter of lactating dairy cows fed on reduced-fat dried distillers grains with solubles. Animal. accepted.
Ishaq, S.L., A. Hotopp, S. Silverbrand, J.E. Dumont, A. Michaud, J. MacRae, S. P. Stock, E. Groden. 2021. , Bacterial transfer from Pristionchus entomophagus nematodes to the invasive ant Myrmica rubra and the potential for colony mortality in coastal Maine. iScience. In press.
Ishaq, S.L., Lachman, M.M., Wenner, B.A., Baeza, A., Butler, M., Gates, E., Olivo, S., Buono Geddes, J., Hatfield, P., Yeoman, C.J. 2019. ,Pelleted-hay alfalfa feed increases sheep wether weight gain and rumen bacterial richness over loose-hay alfalfa feed . PLoS ONE.14(6): e0215797.
Ishaq, S.L., Page, C.M., Yeoman, C.J., Murphy, T.W., Van Emon, M.L., Stewart, W.C. 2019. Zinc amino acid supplementation alters yearling ram rumen bacterial communities but zinc sulfate supplementation does not . Journal of Animal Science.97(2):687–697.
Ishaq, S.L., Rapp, M., Byerly, R., McClellan, L.S., O'Boyle, M.R., Nykanen, A., Fuller, P.J., Aas, C., Stone, J.M., Killpatrick, S., Uptegrove, M.M., Vischer, A., Wolf, H., Smallman, F., Eymann, H., Narode, S., Stapleton, E., Cioffi, C.C., Tavalire, H. 2019. Framing the discussion of microorganisms as a facet of social equity in human health .PLoS Biology 17(11): e3000536. Microbiomes Across Systems special issue.
Yeoman, C.J., Ishaq, S.L., Bichi, E., Olivo, S., Lowe, J., Aldridge, B.M. 2018.. Biogeographical Differences in the Influence of Maternal Microbial Sources on the Early Successional Development of the Bovine Neonatal Gastrointestinal tract. Scientific Reports 8: 3197.