Sue Ishaq
Assistant Professor of Animal and Veterinary Sciences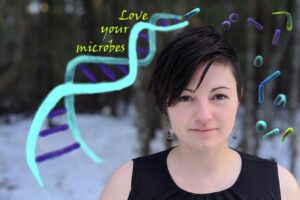 Degree: Ph.D. 2015, University of Vermont
Phone: 207.581.2770
Email: sue.ishaq@maine.edu
Location: 108 Rogers Hall
Professional Interests: The central efforts of my lab are to increase our understanding of the interactions between animal (or human) hosts and their resident microbiota, and investigate solutions for using microorganisms to resolve disordered communities and host health. My ongoing and proposed research activities investigate the microbiome in several animal hosts with implications for a wide variety of research applications and to health, agriculture, and ecological management sectors inside of Maine and beyond. In particular, much of my work centers on the importance of spatial location in understanding host-microbe interactions and how to harness them. Currently, my lab is focusing on the role of gut microbes in creating beneficial compounds from the diet which can reduce inflammation in hosts, microbial community acquisition and health in several marine animal species, and the connection between host-microbe-environment.
Teaching:
AVS 254 Introduction to Animal Microbiomes
AVS 401/402 Senior Paper in Animal Science
AVS 454/554 DNA Sequencing Data Analysis Lab
Website: https://sueishaqlab.org/
Founder, Microbes and Social Equity Working Group: https://sueishaqlab.org/microbes-and-social-equity-working-group/
Selected Publications:
Holman, J., Hurd, M., Moses, P., Mawe, G., Zhang, T., Ishaq, S.L., Li, Y. 2022. Interplay of Broccoli/Broccoli Sprout Bioactives with Gut Microbiota in Reducing Inflammation in Inflammatory Bowel Diseases. In review.
Hosler, S., Kamath, P.L., Ishaq, S.L. 2022. A review of technological advances and gaps in detecting and understanding Cryptosporidium protozoan parasites in ruminant livestock. In review.
Ishaq, S.L., Turner, S.M., Tudor, M.S., MacRae, J.D., Hamlin, H., Kilchenmann, J., Lee1, G., Bouchard, D. 2022. , Many questions remain unanswered about the role of microbial transmission in epizootic shell disease in American lobsters (Homarus americanus) Frontiers in Microbiology 13: 824950.
Robinson, J.M., Redvers, N., Camargo, A., Bosch, C.A., Breed, M.F., Brenner, L.A., Carney, M.A., Chauhan, A., Dasari, M., Dietz, L.G., Friedman, M., Grieneisen, L., Hoisington, A.J., Horve, P.F., Hunter, A., Jech, S., Jorgensen, A., Lowry, C.A., Man, I., Mhuireach, G., Navarro-Pérez, E., Ritchie, E.G., Stewart, J.D., Watkins, H., Weinstein, P., and Ishaq, S.L. 2022 Twenty important research questions in microbial exposure and social equity mSystems 7(1): e01240-21
Ishaq, S.L., Parada Flores, F.J., Wolf, P.G., Bonilla, C.Y., Carney, M.A., Benezra, A., Wissel, E., Friedman, M., DeAngelis, K.M., Robinson, J.M., Fahimipour, A.K., Manus, M.B., Grieneisen, L., Dietz, L.G., Chauhan, A., Pathak, A., Kuthyar, S., Stewart, J.D., Dasari, M.R., Nonnamaker, E., Choudoir, M., Horve, P.F., Zimmerman, N.B., Kozik, A.J., Darling, K.W., Romero-Olivares, A.L., Hariharan, J., Farmer, N., Maki, K., Collier, J.L., O'Doherty, K., Letourneau, J., Kline, J., Moses, P.L., Morar, N. 2021. Introducing the Microbes and Social Equity Working Group: Considering the Microbial Components of Social, Environmental, and Health Justice. mSystems. accepted..
Dankwa, A.S., Humagain, U., Ishaq, S.L., Yeoman, C.J., Clark, S., Beitz, D.C., Testroet, E.D. 2021. Determination of the microbial community in the rumen and fecal matter of lactating dairy cows fed on reduced-fat dried distillers grains with solubles. Animal 15(7):100281
Ishaq, S.L., A. Hotopp, S. Silverbrand, J.E. Dumont, A. Michaud, J. MacRae, S. P. Stock, E. Groden. 2021. , Bacterial transfer from Pristionchus entomophagus nematodes to the invasive ant Myrmica rubra and the potential for colony mortality in coastal Maine. iScience 24(6):102663.