Jade McNamara
Assistant Professor of Human Nutrition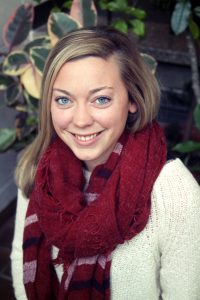 Degree: Ph.D. University of Rhode Island
Phone: 207.581.4895
Email: jade.mcnamara@maine.edu
Location: 107 Hitchner Hall
Professional Interests: Nutrition behavior change using theory-driven methods focusing on both environment and personal factors that influence health behavior decisions.
Teaching: FSN 401 Community Nutrition, FSN 671 Advanced Graduate Seminar
Research: Exploring the relationship between nutrition and food literacy and dietary behaviors, developing curricula and interventions, using theory-driven behavior change methods, to influence healthy behavior change in youth and young adults. Evidence-based instructional practices for critical thinking in health studies and higher education. Instrument/survey development to assess behavior and perceptions of health.
Recent Publications:
Kattelmann K, Hofer E, Merfeld C, Meendering J, Olfert MD, McNamara J, Colby S, Meade R, Franzen-Castle L, Aguirre T, Mathews D, Moyer J, White AA. Quality of Life Associated with Physical Activity but not Sedentary Time in Youth. Jrnl of Childhood Obesity 2018; No 3 Iss No: S1.001
DOI: 10.21767/2572-5394.100052
Olfert MD, Hagedorn RL, White JA, Baker BA, Colby SE, Franzen-Castle L, Kattelmann KK, White AA. An Impact Mapping Method to Generate Robust Qualitative Evaluation of Community-Based Research Programs for Youth and Adults. Methods & Protocols 2018, 1(3):25. https://doi.org/10.3390/mps1030025
Hagedorn RL, White JA, Franzen-Castle L, Colby SE, Kattelmann KK, White A, Olfert MD. Using Teen Leaders to Implement a Childhood Obesity Prevention Program in the Community: Feasibility and Perceptions of a Partnership with HSTA and iCook 4-H. Int J Environ Res Public Health 2018; 15(5). DOI:10.3390/ijerph15050934 PMC5981973
White JA, Hagedorn RL, Waterland NL, Barr ML, Famodu OA, Root AE, White AA, Colby SE, Franzen-Castle F, Kattelmann KK,Olfert MD. Development of iGrow: A Curriculum for Youth/Adult Dyads to Increase Gardening Skills, Culinary Competence, and Family Meal Time for Youths and Their Adult Caregivers. Int. J. Environ. Res. Public Health 2018, 15(7), 1401.https://doi.org/10.3390/ijerph15071401
Olfert MD, Famodu OA, Flanagan S, Smith E, Leary MP, White JA, Koenings M, Colby SE, Kattelmann KK, Franzen-Castle L, White AA. The Effect of iCook 4-H, a Childhood Obesity Prevention Program, on Blood Pressure and Quality of Life in Youth and Adults: A Randomized Control Trial. Jrnl of Childhood Obesity 2018; No 3 Iss No: 1: 4 .DOI: 10.21767/2572-5394.100044
Xu, Furong, Stephanie Marchand, Celeste Corcoran, Heather DiBiasio, Rachel Clough, Christopher S. Dyer, Jennifer Nobles, Jade White, Mary L. Greaney, and Geoffrey W. Greene. "A Community-Based Nutrition and Physical Activity Intervention for Children Who Are Overweight or Obese and Their Caregivers." Journal of Obesity 2017, 1-9. DOI: 10.1155/2017/2746595