PhD Opportunity – Ecological Genetics of Maine Fishes
Position: PhD Graduate Assistantship – Ecological Genetics of Maine Fishes
Location: Kinnison Lab, University of Maine, School of Biology and Ecology, (https://umaine.edu/evoappslab/)
Responsibilities: Conduct a doctoral dissertation incorporating two large datasets of genetic, trait, ecological and management histories of two fish species in Maine.  These include a unique 15-year dataset of genetic, trait, limnological, and mark-recapture data for a glacial relic population of Arctic charr at the southern extent of the species range, and a spatially expansive dataset of brook charr genotypes and population stocking histories throughout multiple watersheds. Analyses of these datasets would likely integrate diverse tools from population genetics, evolution, population dynamics, and community ecology. It is expected that core datasets could be supplemented by new surveys (including eDNA), experiments, ecological models, or genomics.  Themes would likely span basic and applied questions related to local adaptation, gene flow, eco-evolutionary dynamics, climate change, and conservation.
Qualifications: M.S or extensive B.S. research training in biology, ecology and evolution, fisheries, or related discipline. Experience with molecular genetic techniques or ecological modeling preferred. Must have excellent communication and quantitative skills (as demonstrated by GPA, GREs or other indicators).
Compensation: Starting annual grad stipend of ca. $20K per year (via Teaching and Research Assistantships), tuition, and ½ health insurance.
 Closing date:  Applications will be considered until a suitable candidate is hired
 Anticipated start date: 1 Sept 2016 Preferred
 Contact: Send a cover letter, CV, transcripts (unofficial are fine at this stage), GRE scores and email addresses for three professional references to Dr. Michael Kinnison:  mkinnison@maine.edu.
Introducing Dr. Heather Arnett!!!
Ladies and gentlemen, it is with great pleasure that I introduce to you Dr. Heather Arnett!  Heather nicely defended her PhD dissertation on "Sources of Ecologically Important Trait Variation in Mosquitofish", which included some very nice chapters on parallel and unique patterns of intra-generational and transgenerational phenotypic plasticity.  The breeding and rearing designs to pull off her experiments were huge and that work is made all the more impressive by a comparative framework contrasting species, sexes and different types of traits.  Fortunately, Heather had a small but dedicated army of helpers and lab-mates for logistical and moral support, and it was great to see them all today in the audience.  Heather even got two lucky opportunities to demonstrate her ability to maintain her cool under the severe duress of not one, but two catastrophic and improbable failures of the video conferencing systems.  Seriously…what are the odds of simultaneously losing audio, but not video, for two different committee members connected from two different continents via two different conferencing systems (Skype and Jabber) running on two different computers? But Heather could not be deterred, even when her remote committee members were communicating with pop-up signs like Wild-E-Coyote in an old Roadrunner cartoon (click for artist's representation).  We're proud of you, Heather!  Nice Job!
Zach and Jared Write Bangor Daily News Article on Vernal Pools
Zach and Jared teamed up to write a local newspaper article discussing the vibrant life found in vernal pools across Maine and how the unique nature of these pools can nurture healthier forests and waterways.  Also check out the really nice amphibian pictures by Kristine Hoffman (including the photo featured here).  Jared is conducting major portions of his PhD research as part of an NSF Coupled Natural Human Systems project that links the ecology of vernal pools and vernal-pool amphibians (including amphibian genetics) to the socioeconomic processes that influence human impacts on those pools.
http://bangordailynews.com/2016/04/29/outdoors/why-these-pools-in-the-forest-are-more-important-than-you-may-think/
Zach Writes News Column on Lake Effects of Early Spring
Zach Wood has started writing a public interest column on aquatic ecology and other themes for the Bangor Daily News!  Check out his first article on implications of this year's early spring for Maine's lakes.  In this article Zach explains how an early spring can change lake dynamics by causing longer and stronger lake stratification. During stratification, a lake divides into two layers, an upper (warm) and lower (cold) layer, with the latter being essentially sealed off from the atmosphere. Developing anoxia in the lower layer can release phosphorus from the lake bottom, which eventually can mix throughout the entire lake leading to algae blooms and lowered water quality.
http://bangordailynews.com/2016/04/05/outdoors/what-an-early-spring-means-for-maines-lakes/
Website Evolves for Darwin Day 2016
In celebration of Darwin Day 2016 the EvoApps Lab's new website was launched today in the University of Maine's WordPress format.  Lots of content and formatting to come.  Please be patient and check back soon!  – Mike
Zach Wood Tackles The Ecology and Evolution of Everything
Zachary Wood took the reigns at today's Ecology and Evolution of Everything (EEE) Lunch group.  Rumor has it he took the name of the discussion group too literally and attempted to present an individual-based model of the ecology and evolution of everything. OK, it wasn't quite that encompassing, but it came closer than most eco-evolutionary dynamics models in examining cascading feedbacks in multi-trophic-level communities.  There was some good discussion of how best to quantify complex trait and population patterns in such systems.  There was also some nice simulation of Mike's dietary and fitness options.
BBC Radio 4 Documentary on 'Unnatural Selection'
An interview with Dr. Kinnison is included in the new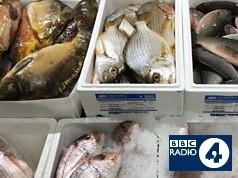 BBC Radio 4 documentary 'Unnatural Selection' with host Dr. Adam Hart.  Mike talks about how harvest drives faster trait changes in wild populations than in more natural contexts and highlights some neat research by David Philipp's and Jason Vokoun's labs on evolution of reduced aggressiveness in bass due to catch-and-release fishing. The bass studies show how fish don't even need to be truly 'harvested' to generate Darwinian fisheries effects.
Jared Homola Awarded Waldron Fellowship
Congratulations to Jared Homola for being awarded one of only two Janet Waldron Doctoral Research Fellowships available in this year's campus-wide competition.  This is one of, if not the, most competitive fellowships offered by the University of Maine and is awarded in large part based on a graduate student's past and anticipated scholarship.  Jared's many publications, presentations and student leadership in the A2C2 IGERT, Vernal Pools CNH Project, and Graduate Student Government, were surely noticed.
EvoApps Lab Hosts Dr. Timothy Farkas
The lab hosted Dr. Tim Farkas, a postdoc from UConn, for this week's School of Biology and Ecology seminar.  Tim gave a great talk on dispersal and maladaptation as drivers of eco-evolutionary dynamics in the stick insect Timema cristinae.  What a cool study system for observational and experimental approaches. Check out Tim's website and publications when you get a chance – you'll be impressed!