SEANET Mini-SEED Grant 2017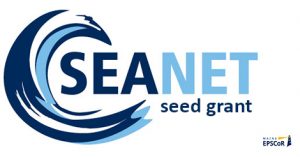 Applications for the 2017 SEANET Mini-SEED Grant are now open! The purpose of this program is to develop partnerships with organizations and institutions to increase K-20 STEM through outreach and education programs, and activities that are aligned with SEANET's project's research initiatives throughout the state of Maine.
Before you submit your application, please:
(1) Review the Maine EPSCoR SEANET information sheet, website, and guidelines included in this application and online to find a direct connection with your project. Your project must be aligned with the current research or it will not be considered for funding.
(2) Complete the application packet and budget form. The budget form can be downloaded at: http://umaine.edu/epscor/resources-funding/
Your completed application is due on Monday, July 24, 2017 at 2 pm.
If you have any questions please do not hesitate to contact Laurie Bragg, ME EPSCoR Program & Outreach Manager, at 207-581-2295.
Maine EPSCoR RII Track-1 Proposal Development
Maine EPSCoR will become eligible to submit another proposal to the NSF EPSCoR RII Track-1 solicitation during mid to late 2018. For more information about this process, please visit the Proposal Development Process Page.
SEANET Research Mini-Grant RFP 2017
The SEANET program invites proposals for research projects that create industry/academic partnerships and contribute to the performance metrics of the SEANET/EPSCoR program and the National Science Foundation. The proposals may either be submitted by a PI from an academic or other research institution in collaboration with an industry or regulatory partner or vice versa. It is expected that the collaborators will work together to identify a research problem driven by policy or industry needs. Priority will be given to projects that address topics in sea vegetable aquaculture such as: processing, food safety, grow out strategies, ecosystem services or value added products. Other aquaculture related research will be considered. Applicants should discuss their idea with the SEANET Research Director, Paul Anderson, or the Research Coordinator, Meggan Dwyer.  Click here for more information and to apply.
Maine EPSCoR High School Research Internship Program
Applications  for the Maine EPSCoR High School Research Internship Program are available now. Students are invited to apply to take part in an exciting, paid research internship opportunity to gain real-world experience. Students will work with UMaine faculty, students, and others learning about sustainable science and aquaculture. The internship includes an orientation on the UMaine campus, participation in science research, exploring career options, and being paid while having fun.
To participate, students must complete an application, provide a copy of their high school transcript, and include a letter of recommendation written by a teacher, counselor, coach, or community leader.
The program is open to all Maine high school students. Students must be age 16 or older as of June 1, 2017. Students must have daily transportation to the University of Maine in Orono. Students are required to give a final presentation in August. Priority will be given to students completing their Junior year.