Congratulations to Maine-eDNA Summer Internship Cohort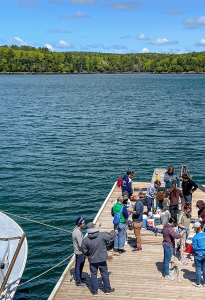 Congratulations to Maine-eDNA's summer internship cohort! The NSF EPSCoR RII Track-1 Maine-eDNA project provided support to 32 undergraduate interns this summer. Working up and down the coast and into the interior of Maine, these interns made meaningful contributions to the project by helping advance efforts like Maine-eDNA's Index Site Sampling project. 
The interns used eDNA to investigate a number of species and eDNA research questions. For example, Emma Nickerson, a student studying in the Department of Wildlife, Fisheries, and Conservation Biology, the  spent the summer developing a digital droplet PCR (ddPCR) assay to detect black sea bass and Etain Cullen, a UMaine student studying botany in the School of Biology and Ecology, helped investigate aquatic "fungi" biodiversity across Maine watersheds. Other projects centered on detecting white sharks in the Gulf of Maine, understanding the migratory patterns of river herring, scallop aquaculture and more. 
For many, these interns' participation is a highlight of the summer, and Maine-eDNA looks forward to seeing them develop as researchers.