Investigating Harmful Algae Blooms with Robin Sleith
By Evan Bartow, Writing Intern
Located across the many aquatic enviroments of Maine, harmful algae blooms (HABs) are caused by algae that can grow uncontrollably, and cause the production of naturally produced toxins. These toxins negatively impact other organisms within the aquatic ecosystems.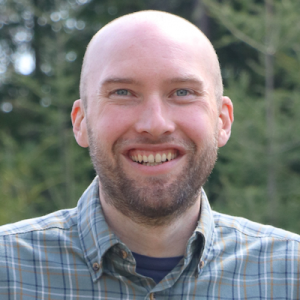 Robin Sleith, who started as a postdoctoral scientist at Bigelow Laboratory for Ocean Sciences, joined the NSF ESPCoR RII Track-1 Maine-eDNA grant in 2020 to help the project better understand and detect HABs via environmental DNA (eDNA). With a previous background in researching micro eukaryotic diversity at Smith College, Sleith jumped at the opportunity to further his research opportunities in what is described as a "culture collection environment". Since his involvement, Sleith became an essential part of Maine-eDNA researching how HABs affect freshwater ecosystems. 
When a cyanobacteria bloom occurred in Damariscotta Lake in August 2020, DNA metabarcoding revealed Plantothrix and Dolichospermum were the most noteworthy potential cyanotoxin producers. Maine-eDNA researchers were lucky to be in the right place at the right time when this bloom occurred. Sleith and fellow researchers like Peter Countway (Senior Research Scientist at Bigelow Laboratory) took this opportunity to examine the cause of HABs and, as Sleith stressed, begin to develop preventative measures for future blooms. 
In addition to work on Damariscotta Lake, Sleith started working with Mook Sea Farm, who had secured a Maine-eDNA commercialization seed grant, to start developing preventive measures. Mook Sea Farm had recently experienced a large die off of oysters due to unknown pathogens and was particularly interested in the work being done by Maine-eDNA on this front. So far the collaborative effort has three toolkits in development capable of identifying potentially harmful organisms which will benefit hatcheries and natural environments, and ensure seafood safety. Sleith explained "It was a question of how can we go from being reactivate to develop testing capabilities that allow hatchery operators to test and preempt these sort of detrimental events"
Being part of a massive statewide project, Sleith supported additional algae research in the marine field helping colleagues with the assay design, bioinformatics or metagenomic analysis. Sleith has found the process of researching HAB issues across freshwater and marine systems, as well as assisting fellow researchers working at Bigelow Laboratory, to be a rewarding process.
As of June 2023, Sleith transitioned to a new role with Maine-eDNA where he leverages his data background to help analyze Maine-eDNA's Index Site data of lake, estuary, and coastal environments across Maine, which is sure to provide real insights into the diversity of Maine's waterways.
This work will not only help further develop our collective understanding of Maine's aquatic environments and the research questions that come with them, but give Sleith an opportunity to work closely with graduate students. Sleith remarked that the process of finding new ways of eDNA application and incorporation is an exciting new endeavor.