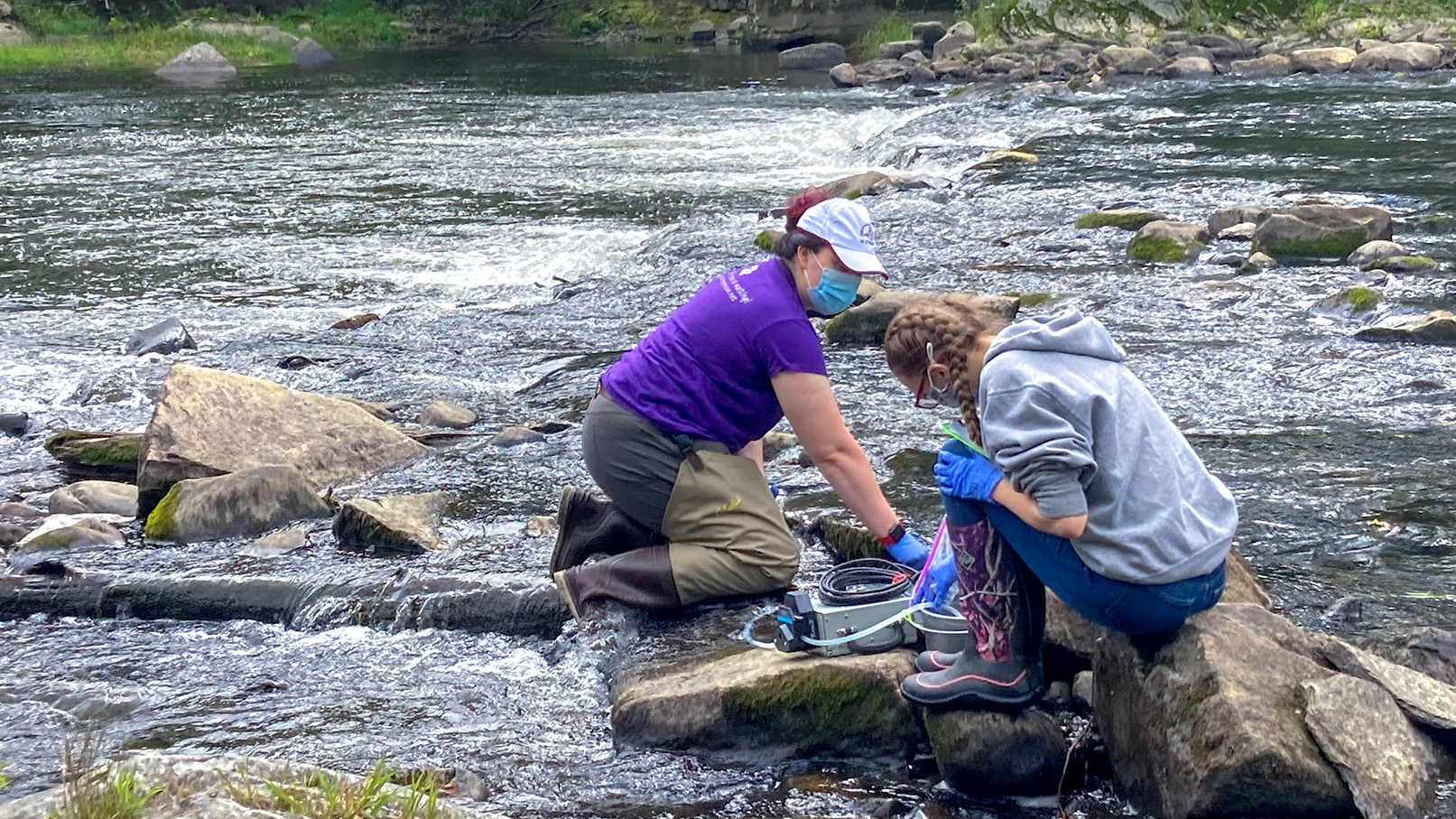 Exploring Local Environments and the Research Process at University of Maine Farmington
By Evan Bartow, Writing Intern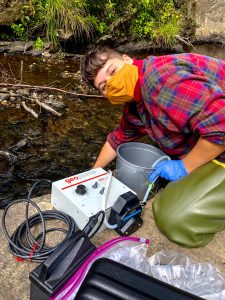 For undergraduate students, especially early in their academic career, field experience is often limited, but at University of Maine Farmington (UMF), faculty are working to incorporate more field and laboratory experience in their introductory biology classes to expand opportunities. Donelle Schwalm is an Assistant Professor of Environmental Biology at UMF where she focuses on the impacts of climate change and habitat fragmentation on endangered and threatened terrestrial wildlife populations. Taking new steps, Schwalm has expanded her research to include the use of aquatic environmental DNA (eDNA) to analyze the effects of dam restoration on the aquatic community in nearby Temple Stream.
As part of the NSF EPSCoR RII Track-1 Maine-eDNA grant, seed grant funding is provided for undergraduate curriculum innovations. Schwalm in collaboration with other UMF faculty, Andrew Barton (Professor of Biology), Rachel Hovel (Assistant Professor of Biology), and Timothy Breton (Associate Professor of Biology) applied for and received the curriculum innovations seed grant which helped them restructure their BIO 141: The Living Earth: Ecology, Evolution, and Biodiversity and BIO 212: Principles of Ecology courses. 
This change in course structure was driven by the desire to bring both "practical and interpersonal skills into the classroom," explained Schwalm. "In our program here at UMF, we really focus on experiential learning and skill building to best prepare students for their academic and professional careers." During these courses, students are able to develop skills in pipetting, research, data collection, teamwork, communication, and relationship building. 
In addition to the focus on the development of students' skills, students are able to assist in a research project found right in their backyard. During the course of their projects, students help model the aquatic community of marine fishes found in Temple Stream near the former Walton's Mill Dam in Farmington. Students collected and filtered water samples above and below the dam before and after it was removed to compare the aquatic communities in both regions. Schwalm hopes that "over time students will be able to continue to model the changes in the aquatic community" and report their findings about species of potential interest (Atlantic salmon, American eel) to state agencies and other research institutions including the Atlantic Salmon Federation. Throughout their research, students have already begun to collect results including the detection of Atlantic salmon in previously uninhabited sections of the Temple Stream.
While this is the first year that both BIO 141 and BIO 212 have had an eDNA focused curriculum, Schawlm is already beginning to see the impacts of this course curriculum change. She noted an increased interest and desire for students to learn more about eDNA, and continues to remind students that eDNA research "has real world implications for broadening their professional horizons." Students that have taken these courses have begun to search for "career opportunities in eDNA research both in and out of Maine," Schawlm explained. 
Throughout these courses, students are gaining important field and lab experiences that will prepare them for future research opportunities and give them the skills they need to advance in their academic and eventual professional careers. Maine-eDNA curriculum seed grants are able to directly benefit students by expanding research opportunities and involvement with new and developing technologies. eDNA research continues to help students grow and develop their understanding of the environment.