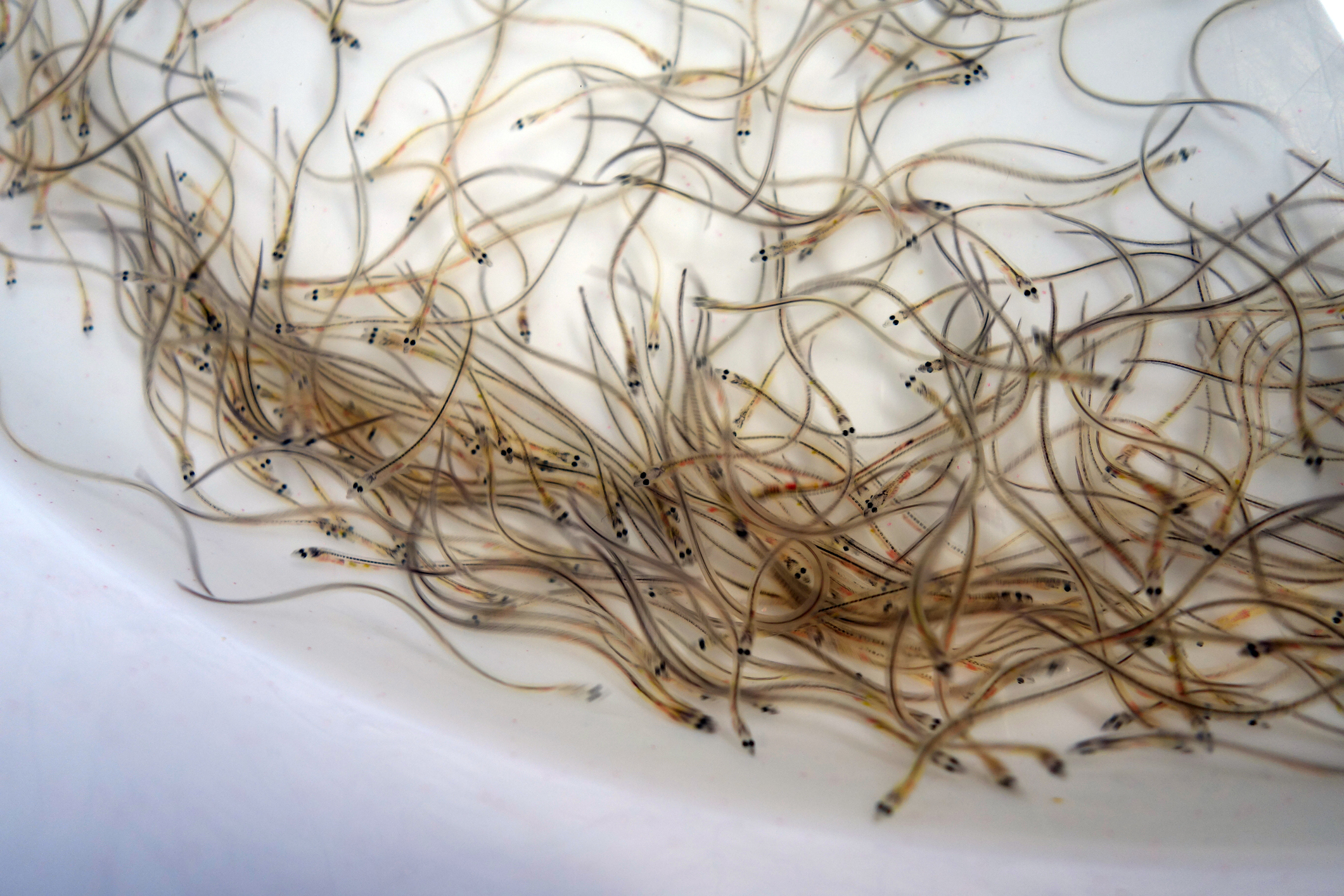 Maine-eDNA Research Learning Experience
By Caty DuDevoir, Writing Intern
Illustrations by Nhan Chau, Media Intern
Maine's forests, oceans, rivers, and land sustain vital economic and social opportunities, and understanding how to properly manage the state's resources requires a level of stewardship. Involving undergraduate students in research is a small step in addressing resource management and promotes exploration within scientific research environments. Last fall, Maine-eDNA (Maine's current NSF EPSCoR RII Track-1 grant) offered an academic course with the University of Maine (UMaine) that introduced students to environmental DNA (eDNA) through one of UMaine's research learning experiences (RLE). Environmental DNA is genetic material that organisms naturally shed into their surrounding water, air, or soil. In collaboration, Peter Avis (Adjunct Instructor, UMaine School of Biology and Ecology) and Mike Kinnison (Professor and Director of the Maine Center for Genetics in the Environment), created an RLE course that aimed to use eDNA to detect American eels in water samples from the Stillwater River in Orono, Maine. During the course, eleven students met once per week to gather and filter river water samples, extract DNA, and interpret the data. The data collected by the undergraduate students ultimately helped inform the Maine Department of Marine Resources (DMR) on how to better manage American eel populations in Maine's rivers.
Avis, who led the RLE course and is Maine-eDNA's undergraduate research coordinator, works to expand student engagement experiences. Avis explained, "I've worked with undergrads my entire career. The research that I do is almost always directly tied to undergraduates and having them learn how to do research. For me, it's a model for building their ability to be good scientists." Particularly for undergraduates, when research can help address real-world issues, there is more engagement and meaning behind the project. Recently, Maine's elver fishing industry saw one of its most successful seasons, being valued at roughly $20 million. However, a thriving season this year is not a guarantee for future years, so understanding how to best manage the elver population and create healthy fishing habits is vital. 
Eels played an essential role as a food source for Indigenous communities and early European settlers in Maine. "Historically, American eels were a massive part of aquatic ecosystems in Maine. They were so abundant that they were one of the primary, staple foods for European colonizers as they learned to live on the land." Today, however, the construction of hydroelectric dams hinders eels' normal migratory patterns. Other factors like climate change and overfishing may also be affecting Maine's eel population, causing further uncertainty about eels' health and numbers.
In the early part of their lives, American eels hatch from eggs spawned in the middle of the Atlantic Ocean. The Gulf Stream carries the juvenile eels to the northeastern United States, where the eels migrate from the sea to rivers and lakes to grow to maturity, at which point they migrate back to the ocean during fall to spawn and die. When the eels first reach Maine's estuaries and rivers as juveniles, they are called "glass eels" or "elvers." At this stage, the eels have a transparent complexion other than their dark eyes. Maine fishermen harvest the elvers on their upstream migrations and work with brokers that sell them to aquaculture businesses in Asia. Due to increased scarcity, the price of elvers skyrocketed, and eels have become a lucrative industry for Maine fishermen. Currently, freshwater eels throughout Europe, Japan, and North America have been declared threatened by the International Union for Conservation of Nature, although Maine's populations have fared better than most others. Avis said, "Interest in preserving this fishery and restoring eels to their historical range in Maine has increased. State, tribal, and federal agencies, among others, have interest in assessing the current status and threats faced by this species."
To determine if eDNA is a viable tool to detect eel populations in the rivers of Maine, the undergraduate students, guided by Avis and Kinnison, developed and executed a research project that also considered sampling factors that could influence the detection of the eels. Avis explained, "We took advantage of the Maine-eDNA research infrastructure as well as the proximity of the University of Maine to the Stillwater Branch of the Penobscot River system." Since eels typically migrate during the night, students sampled twice per day along four location sites on the Stillwater River to "assess whether higher levels of eel eDNA would be associated with nighttime activity (4 a.m.) versus the day (4 p.m.)." Avis continued noting the students' enthusiasm for and engagement with the research.
Ultimately, the class found that eDNA analysis did detect the presence of the American eel in the river, and the water sampling location made some difference to the detection model. However, time of day did not affect the level of data collection. For instance, higher levels of eel eDNA were found below the dam, and the nighttime data collection did not provide any higher detection levels than during the day. "Our study suggests that eels shed eDNA at sufficient rates for detection," Avis explained, "This study also provides baseline information that can assist the Maine Department of Marine Resources, and other natural resource partners, in the monitoring and management of American eel in the rivers of Maine."
Engaging undergraduates in research projects gives groups like DMR more data for their future projects and allows their projects to expand in various ways. Avis explained, "Answering those unknowns that normally wouldn't get addressed directly by the Maine DMR is a way to continue working with undergraduates." Students can provide valuable information about certain research topics that major management groups and natural resources partners may not necessarily have the time for. Researchers can strategically design questions and assignments that allow for true engagement and meaning for students. As the RLE course ended, several students joined the UMaine Environmental DNA Laboratory. Each summer, the Maine-eDNA team offers internships that provide undergraduates with a deeper knowledge of eDNA as a research tool and equips them with a group of professors and coordinators who support them.