Using eDNA to Monitor Maine's Rivers with Beth Davis
By Caty DuDevoir, Media Intern
Across the NSF EPSCoR Track-1 Maine-eDNA grant, researchers are partnering with local communities and organizations to maintain dialogue and expand conservation in Maine's waters. Located close to the University of Maine Orono campus, the Penobscot River, New England's second largest river system, provides Maine-eDNA researchers studying freshwater systems or species with access to an abundance of data. 
In many rivers and streams nationwide, dams interfere with fish migrating upstream, which prevents fish from reaching their feeding and spawning grounds, and in turn, causes certain species' populations to decline. Aiming to improve ecological systems, the Penobscot River Restoration Project collaborated with the community and stakeholders to restore parts of the lower Penobscot River. By removing two dams, the project was ultimately able to maintain hydropower while reviving sea-run fisheries. In 2016, the community-wide effort created a stream-like fish bypass on a third dam, allowing a variety of fish to access 2,000 miles of historical habitat ranges. The restoration project also supported Penobscot Indian's cultural traditions.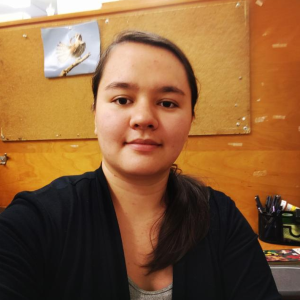 Beth Davis, a graduate student in the School of Ecology and Environmental Sciences at the University of Maine (UMaine), is using the Penobscot River Restoration Project as one of her primary case studies to inform her research. Davis explores the uses of environmental DNA (eDNA) to monitor fish and invertebrates in Maine's freshwater rivers and streams. Advised by Andy Rominger (Assistant Professor of Ecological Bioinformatics, UMaine), Davis looks to understand how community ecology in these freshwater ecosystems is impacted by river restoration projects and dams in the area.
"I hope when I compare and establish these baselines, it can help open up the opportunity and awareness for organizations and institutions to expand their modeling programs…for fisheries [and] for conservation," Davis explained. 
Davis' research is based on freshwater systems in Maine. Currently, she is focusing on sites regularly sampled by the Maine Department of Environmental Protection, the Penobscot Indian Nation Department of Natural Resources, and others. 
"I'm very committed to testing eDNA as a method to collect information on multiple species at once. Current monitoring programs generally target very specific species, which creates knowledge gaps," Davis explained. "Sampling methods are built to target those specific species and tend to miss others unless teams spend more time in the field to conduct multiple types of sampling. I want to see if eDNA can be an effective way to avoid having to do that extra work while still getting reliable information about a variety of species."
Davis explained there are encouraging studies on eDNA transport which are important to understand eDNA as a monitoring technique. "There are also groups working on river particle models that are being built with the goal of modeling eDNA transport for more detailed distance predictions, which is very promising for the future of the field and eDNA applications." Due to its relatively easy collection method, Davis sees eDNA as a tool to sample more sites more confidently. She looks forward to more time in the field this coming season and developing her research further.