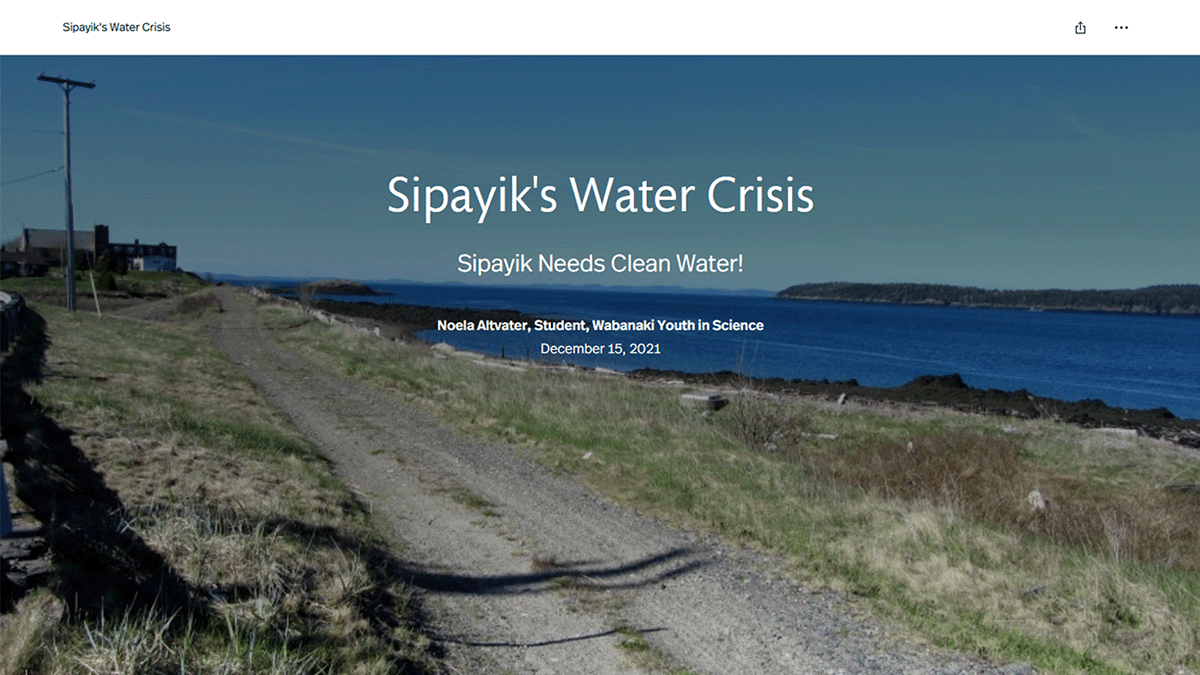 WaYS Spotlight: Noela Altavera
By Caty DuDevoir
The Wabanaki Youth in Science Program (WaYS) intertwines Indigenous cultural practices and knowledge with western science to help give Indigenous youth tools that can better help them understand environmental stewardship. WaYS offers an annual summer camp and opportunities for students to continue exploring their research interests with graduate students throughout the University of Maine System. The program helps attract and retain Wabanaki (the Miꞌkmaq, Maliseet, Passamaquoddy, and Penobscot) youth to STEM-related fields at secondary and post-secondary levels. Maine EPSCoR partners with the WaYS program to promote scientific research in these communities.
As a child, Noela Altvater, a member of the Passamaquoddy tribe, got involved with WaYS through the program's summer camp program. "WaYS was always a thing that was there," she explained. Since the program's establishment in 2013, WaYS has become an important resource in the state. Altvater began an internship with WaYS in 2020 and was tasked with creating a StoryMap, a multimedia storytelling web page. In the beginning, As Altvater started the project, she struggled to find a subject that resonated with her.
Altvater grew up in Sipayik, home of the Passamaquoddy Pleasant Point Reservation but moved to Old Town around age of 10. There was a water crisis in Sipayik when Alvater moved that made the water unsafe to drink. When she returned to Sipayik some years later, Alvater was thinking about the StoryMap she was tasked with and discussed it with her grandparents and other community members. She was surprised and disappointed to hear that the drinking water was still polluted. The water has extremely high levels of trihalomethanes, which can cause cancer and damage to the nervous system. The only water source in the area was polluted with chemicals and waste. After searching for a project to research for her WaYS internship, the water crisis deeply resonated with Altvater. "I tried to make it personal because I grew up this way. I experience it now as well."
Altvater mentioned that the water crisis goes beyond the dangerous physical implications. "Water is what connects us to nature. It nurtures our families. Water brings us animals for hunting, allows us to wash clothes, lets us cook and clean, and is used for ceremony." The water is sacred, so the water crisis threatened their cultural and spiritual well-being. With a personal and passionate perspective on the water issues, Altvater began talking with members of her community about their experiences and began collecting data for her project.
A year into the internship, Altvater formed a collaboration with Michelle de Leon, a current ecology and environmental science graduate student at the University of Maine. This ended up being an important step in the completion of Altvater's project and a source of real support. Altvater's and de Leon's relationship went beyond the mentorship, and the two developed a friendship. "She met with me as often as I could, supported me through my reading and researching, and helped edit the StoryMap so it could become exactly what I wanted. Michelle helped make this project as manageable and low-stress as possible."
In her StoryMap, Altvater combines interviews, personal experiences, news articles, photographs, statistical data, and more to create a powerful narrative on the Sipayik Water Crisis. Wabanaki Youth in Science, the Environmental Department at Sipayik, the University of Maine Machias, the University of Maine, and the Maine Sea Grant supported her work. "To be able to work with all of these groups, gives me an ability to see the issues and speak on them." WaYS and Altvater's StoryMap helped bring increased visibility to the water crisis at Sipayik. Altvater recently won the Brookie Award, an honor given to young Mainers who have demonstrated environmental leadership. She continues to participate and speak at various conferences and events while balancing a full-time college workload.
After decades of struggle, LD 906, a bill that would regulate clean drinking water in Sipayik, passed on April 21, 2022.