INSPIRES High School Teacher Spotlight: Amy Sidell
By Stefania Irene Marthakis 
This fall, Amy Sidell began her 7th year as a biology teacher at Hampden Academy in Maine—specifically four levels of Biology: remedial, college prep, honors, and AP. Sidell has also been the advisor for Envirothon for the past 11 years. Envirothon is a national high school competition that focuses on solving natural resources problems through a hands-on approach to topics such as aquatics, forestry, soils, and wildlife.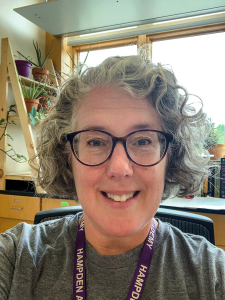 What began as volunteering at Hampden Academy—her children's current school—soon led to two years of subbing then a new focus: teaching. Formerly an Environmental Engineer, Sidell changed course: "Teaching allows me to give back a little more, and hopefully have a more positive impact on the community—and the greater good." 
With a background in forest soils along with her experience with the Envirothon program, Sidell was excited to join the NSF EPSCoR RII Track-2 grant INSPIRES—which focuses on gathering, analyzing, and utilizing data collected from across the Northern Forest Region. Through a partnership with the Maine Center for Research in STEM Education (RiSE Center), an interdisciplinary research center at the University of Maine, INSPIRES has created a teacher training program involving middle and high school teachers from across Maine, New Hampshire, and Vermont. 
From Summer Institutes including fieldwork to monthly working groups, INSPIRES and RiSE have provided a rare opportunity—especially in a science-based research project—for the teachers to act as researchers: develop and test their own hypothesis as well as collect data from sensors alongside INSPIRES project members of different disciplines. In turn, the teachers will incorporate elements of their training into their respective classrooms. 
"I want students to understand that they are all scientists, they can think like scientists, and they can be critical about the claims that they're hearing, and look for the data that supports that, to ask questions about it, to not think that science is some scary thing that only scientists do in labs, that it's something that applies to your everyday life," Sidell stated.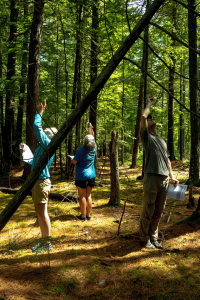 Last year, Sidell and her group focused on developing lessons, specifically stand-alone modules that can be useful for a wide range of classes from forestry-specific research classes to Ecology of Maine, as well as Introduction to Biology. These statistics tutorials can also be used with data that is part of the Forest Ecology Research Network—a field-based, exploratory program for students across Maine.  
This school year, Sidell plans to implement some of the modules in her AP Biology class (e.g., calculating summary statistics, creating bar graphs with error bars using Google Sheets). The students will be introduced to the concepts of working with forestry data, and then they can apply those techniques to non-forestry-related data as well.  
Through INSPIRES and RiSE, Sidell hopes to advance a long-term goal of hers: a stand-alone Natural Resource class. To begin, Sidell plans to incorporate innovative ideas and natural resource topics into her biology class. 
"I believe it's important for our kids to understand the environment that they live in," Sidell said. "We're surrounded by forests, and they're the ones that are going to be taking care of it. The more they can understand what's going on and appreciate it—and be aware, the better off we all are."\