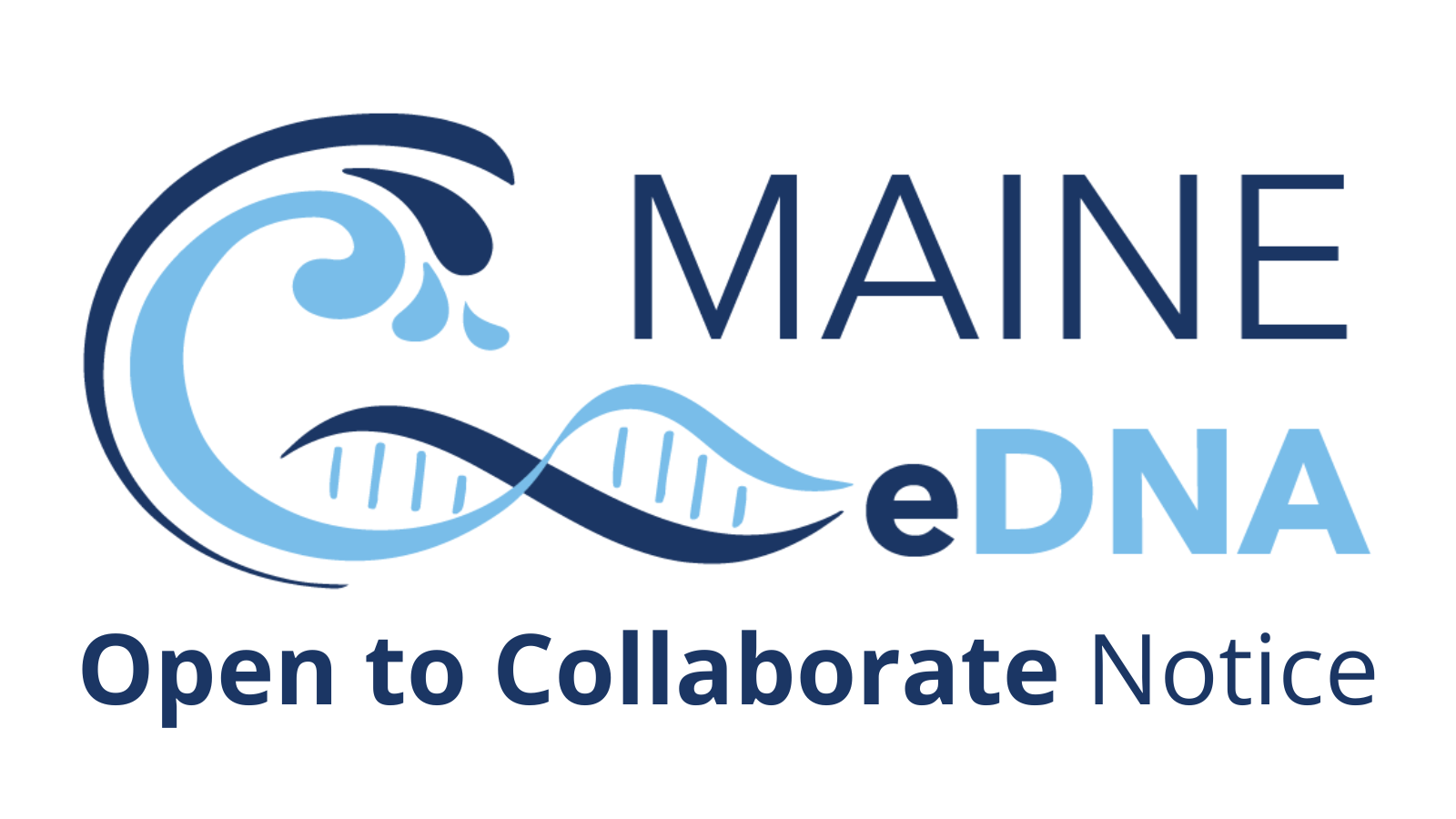 Maine-eDNA Announces New Open to Collaborate Notice
Maine-eDNA is excited to announce a new Open to Collaboration Notice. This Notice from Local Contexts indicates the NSF EPSCoR Track-1 Maine-eDNA grant's commitment to the development of new modes of collaboration, engagement, and partnerships with Indigenous people for the care and stewardship of past and future heritage collections. While the addition of the Notice is important, it is still just a step in the process of building and honoring relationships between this project and Maine's Indigenous communities.
Local Contexts is an organization founded in 2010 whose primary objectives, "are to enhance and legitimize locally based decision-making and Indigenous governance frameworks for determining ownership, access, and culturally appropriate conditions for sharing historical, contemporary and future collections of cultural heritage and Indigenous data." Local Contexts and Equity for Indigenous Research and Innovation (ENRICH), an international biocultural labeling initiative, started working with Maine-eDNA through Darren Ranco (University of Maine (UMaine), Chair of Native American Programs and Professor of Anthropology).
While Local Contexts and Ranco's work started before Maine-eDNA was launched, many on the grant began working with the group after a summer ethics workshop and through Local Contexts and ENRICH's participation in a Fall 2021 Maine-eDNA graduate course. The course, Team Science for Maine's Coastal Macrosystem led by Erin Grey (UMaine, Assistant Professor of Aquatic Genetics) and Andy Rominger (UMaine, Assistant Professor of Ecological Bioinformatics), introduced graduate students to developing stakeholder-driven and team-based eDNA research projects. During the course, graduate students engaged with an array of community partners, one set of partners being Local Contexts and ENRICH. Maine-eDNA graduate student Jennifer Smith-Mayo reflected on working with Local Contexts during the course saying, "This work has made me think about what we are doing as researchers, how we are conducting research, and what kind of relationships we have with communities and with the environment."
Incorporating Local Contexts into Maine-eDNA is a process. It involves the labor of many individuals and groups including Indigenous community representatives, Local Contexts representatives, Maine-eDNA faculty, researchers, and students who are engaged in conversation, developing relationships, building the necessary workflows, and incorporating the project into Maine-eDNA's data infrastructure. In addition to the groups and individuals mentioned earlier, Maine-eDNA graduate students Beth Davis, Jennifer Smith-Mayo and Melissa Kimble, and integrative data scientist Laura Jackson contributed significantly to the implementation of this project. This work will allow Indigenous communities to label Maine-eDNA projects with Biocultural and or Traditional Knowledge Labels that communicate "local and specific conditions for sharing and engaging in future research and relationships in ways that are consistent with already existing community rules, governance and protocols for using, sharing and circulating knowledge and data."
The Open to the Collaborate Notice signals to the Wabanaki Nations that Maine-eDNA wants to work with them and their communities. Maine-eDNA hopes this work can be a model for future research projects in Maine and beyond that seek to develop and honor relationships between research and Indigenous communities. If you want to learn more please visit Local Contexts' webpage or visit Maine-eDNA's Open to Collaborate page.