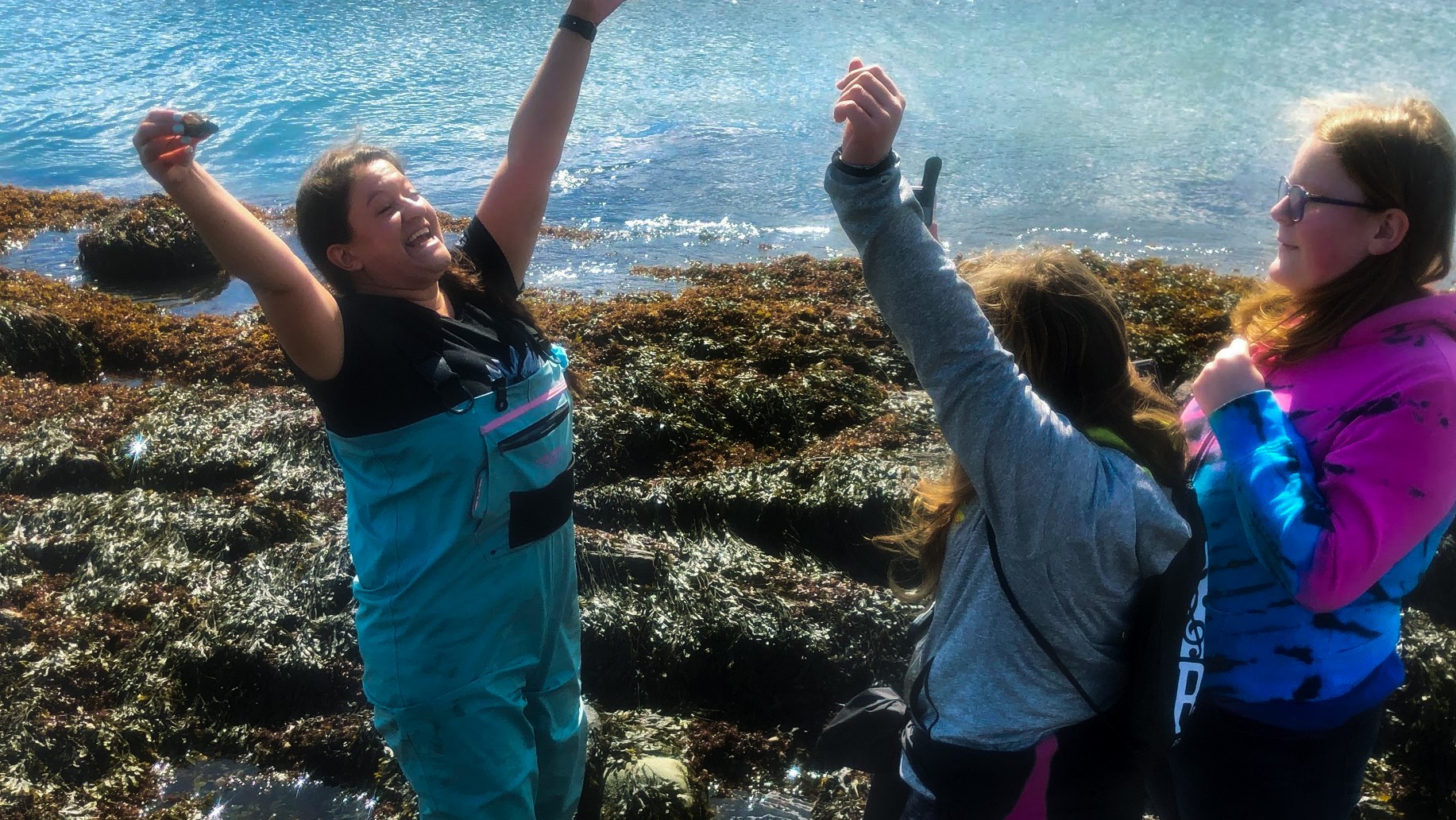 Exploring Maine's Tide Pool Ecology through 4-H SPIN Club
By Nhan Chau, Media Intern
Introducing students to the breadth of different species in intertidal zones helps introduce young people to community science, stewardship, and the impact of invasive species and humans on Maine's coastal habitats. This spring, Maine-eDNA graduate student Emily Pierce (UMaine, Marine Science) ran a six-week 4-H SPIN Club focusing on exploration and discovery of marine species in tidepools. Scheduled for every Tuesday, Pierce's program mostly met over Zoom, with one scheduled in-person meeting exploring tide pools in South Portland. 
Advised by Damian Brady (Associate Professor of Oceanography at Darling Marine Center), Douglas Rasher (Senior Research Scientist at Bigelow Laboratory), and Markus Fredrich (Professor of Marine Sciences at University of New England), Pierce's SPIN Club consisted of members from 12-16 years old. 4-H SPIN Clubs are special interest clubs geared towards young people. This one specifically focused on tide pool ecology. 
The students in the SPIN club came from across Maine and were composed of returning and new 4-H students. One student took interest in the program because of his summer job working on a lobster boat and wanted to learn more about Maine's coastal environments. Another student drove over three hours to attend the club's in-person meeting.
Normally, Pierce's group would meet virtually for an hour every week. To build community, they would spend 10-15 minutes every session talking, playing marine science based games, and doing activities like sea creature yoga. The rest of the meeting was dedicated to that session's lesson and discussion.
The club had their one in-person meeting at Southern Maine Community College where Pierce and students could explore the beach. Pierce's group spent the first 15 minutes going to the tidepools, pointing out different species, and sharing fun facts about them. The group then spread out to explore the tide pools on their own and documented their findings using macro lenses and waterproof phone cases. These photos were later uploaded to iNaturalist, an app that lets you identify different species either by yourself or others online.
Since Pierce and her students mostly found only invasive invertebrates in the tidepools, they were thrilled for one specific discovery. "We found a native crab in the tidepool," Pierce exclaimed. "We were both so excited, [there was] pure joy on our faces." At the end of the meeting, Pierce's group successfully identified 19 different species in the tidepools, including lobsters and various sea slugs. 
Whenever they found anything interesting, the members would huddle together and discuss it. Watching her students during the exploration reminded Pierce of how lucky she was to be doing marine research. "Seeing that ecosystem through a teenager's eyes is so different," Pierce said. "It's rewarding to see them experience it for the first time in a different way."
Pierce explained that the goals of 4-H SPIN Club is to create a sense of community and purpose for the students. The previous and future programs of the club are intended to help students feel heard and belong in the group while doing activities in scientific education.