Maine-eDNA Faculty Launch New Class
By Attis Bielecki, ME EPSCoR Student Writer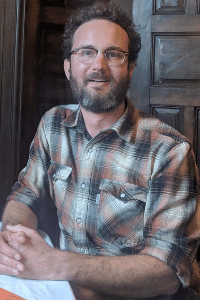 In 2021, a new graduate class in the Ecology and Environmental Sciences program at the University of Maine, led by assistant professors Andrew Rominger and Erin Grey, found great success in informing students around environmental DNA (eDNA). Rominger and Grey recently joined UMaine with financial support from the National Science Foundation EPSCoR RII Track-1 grant, Maine-eDNA. The class, titled "Fundamentals of eDNA," provided an excellent starting point for graduate students' education on the subject, along with many flexible ways for the students to approach their learning.
The goal of the class was to take a little over 20 graduate students from varying backgrounds and give them the tools to not only take in information relating to eDNA but also to produce new insights with the use of eDNA.
To help support these goals, plenty of methods were tried. For example, in-depth lectures were delivered on topics such as learning how to properly extract eDNA, and hands-on work was interwoven covering related topics. Rominger explained, "Since we want [the students] to not only be comfortable in a conversation relating to eDNA, and to actually produce new insights, we had to make sure we were trying a more hands-on approach, which took up about 50% of the course.
"The hands-on part of this class was often open-ended projects where we would group students with other students that had similar interests in the uses of eDNA," Rominger said. "Once we grouped them together we worked on things like the best ways to extract DNA from the environment, or exploring how we can quantify the details of an ecosystem through a single population or collection of populations. These approaches were often done through presentations that the students constructed; some even created websites for their specific projects."
For the lecture half of this class, there were often guest speakers, such as professor of anthropology Darren Ranco and molecular ecologist, Karen James. These invited guest speakers introduced the students to research being conducted with eDNA and provided more insight into how a specific student's research discipline may be applied to the Maine-eDNA program as a whole.
From the perspective of the students, this class was a great opportunity. Graduate research assistant Phoebe Jekielek, found it to be a highly beneficial experience. "This course was very approachable no matter what level you were at, and I think that it was approachable because there were many directions to go with it, along with remote access making it easy to get to," Jekielek commented.
Rominger himself reflected on the class by saying, "The students being as involved in this class as they were was probably the biggest contributing factor to its success. It was amazing to see the level of enthusiasm they brought to each class and how they applied themselves, even if there may have been a little Zoom burnout. Erin Grey is definitely a close second, she was so critical in making this a success."
Although Zoom has its limitations, the platform helped to increase the availability of Rominger and Grey's class and has allowed students to revisit classes through recordings as needed. Rominger clarified, "Zoom was actually necessary because the students were dispersed across multiple campuses in Maine. When we do this class again in the fall, we plan on having a third of the students being remote while the rest are in-person."
Rominger and Grey's innovative curriculum has helped to increase the interest in the broad study of eDNA. Through the process of teaching the new concept of eDNA to future researchers, this has become a class worth emulating by the many ways it has encouraged the students to get involved.