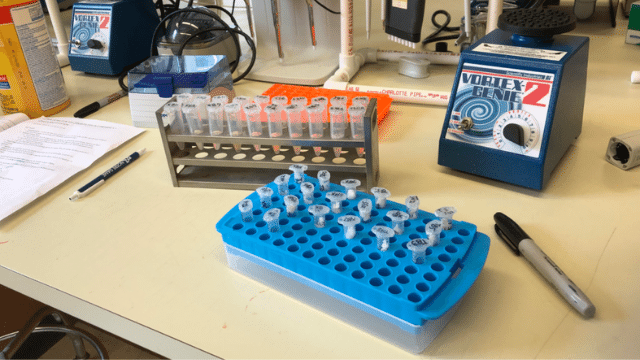 Maine-eDNA undergraduate student, Ian Birchier De Allende, makes strides in sequencing work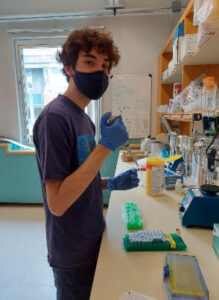 By Attis Bielecki, ME EPSCoR Student Writer
Ian Birchler De Allende is a University of Maine undergraduate Marine Science student who conducts research for the Maine-eDNA program, under his advisor, Dr. Erin Grey, who is an assistant professor of aquatic genetics in the School of Biology and Ecology at the University of Maine. Birchler De Allende has shown to be a great example of what the Maine-eDNA program offers undergraduate students, and what experiential learning experiences are possible.
His responsibilities have varied while working under Grey, and included activities like DNA extraction, DNA quantification, collecting environmental DNA (eDNA) samples from index sites, and even helping to create the reference database that shows what eDNA has been collected and for what species thus far.
The collected samples contain traces of DNA left behind by various species within the environment. Samples are taken from various water sources around Maine with the goal of creating a database that shows all the detectable species within Maine's waters.
"One day, she [Grey] came to me and asked if there was a particular species I would be interested in learning more about through the program. I wanted to study sea slugs," Birchler De Allende said. "So she let me sequence more of their DNA and allowed me to develop my understanding about them."
Sea slugs are an indicator species due to their varied diet, which means that the number of sea slugs that appear can tell researchers how healthy an environment is. It can be difficult to get an exact number of sea slugs, but with eDNA technology, it can make the task a lot easier.
"Since a lot of sea slug DNA hasn't been sequenced yet, that is to say, not 'identified', my job is to sequence what I can of that DNA, so that we can properly estimate the number of sea slugs as a following step," he explained. "With that information, we could help gauge the health of the environment."
Birchler De Allende's plans for the future are very open, but he definitely expects to continue his studies. "I plan on continuing my education in Marine Biology. It is what I have wanted since I was four years old," Ian noted. "I've got a sort of list of people who I would like to work with in the future. I might even continue with eDNA."
Birchler De Allende is an example of the experiences that students have taken away from the Maine-eDNA program. He is one of many undergraduate students receiving support from Maine EPSCoR, and in his particular case, highlights how biology students gain entry into field research at the University of Maine.