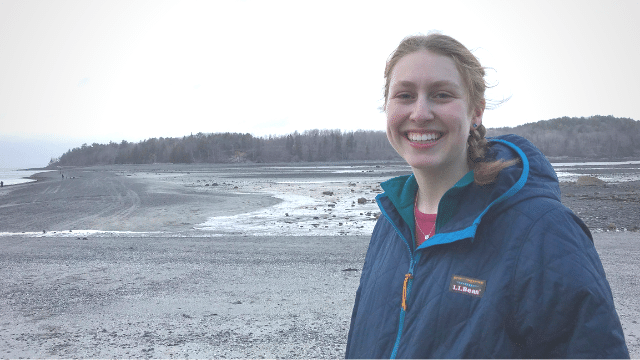 Meet Maine-eDNA: Caitlin McGuire, Outreach Assistant
By Attis Bielecki, ME EPSCoR Student Writer
Caitlin McGuire is a junior at the University of Maine studying elementary education with a concentration in English. McGuire works as an Outreach Assistant for the Maine-eDNA program, and works with the Maine EPSCoR office to help teach younger children about STEM related subjects. Her advisors are Dominick Varney, a student support specialist with the College of Education, and Faith Earhart, a Coordinator of Academic Advising and Support Services.
The Outreach Assistant position has allowed her to gain direct experience in developing STEM (science, technology, engineering, and mathematics) curriculum. A main focus of her work is to get more girls interested in STEM, which involves informing girls about these subjects through lessons in science and technology.
"STEM jobs are an important part of life, and it's essential for, not just girls, but kids in general to develop an early interest in STEM areas," McGuire says.
McGuire primarily works with Laurie Bragg, Maine EPSCoR's Education & Outreach Manager, and together the two have made significant progress over the past year.
McGuire has been restricted to developing online curriculum due to COVID-19 restrictions. "I've been working on two projects: One is an ArcGIS StoryMap about the Asian Shore Crab and how they're an invasive species in Maine, and the other is working with members of the Girl Scouts of Maine to create a new badge," McGuire explains.
Because ArcGIS is an important tool being used in the Maine-eDNA program, the ArcGIS curriculum is readily linkable to activities on the grant involving female scientists, faculty, and students.
The Girl Scouts badge will be called the Maine STEM Badge, and will relate to the STEM-related subjects McGuire and Bragg are presenting to younger audiences.
Last year was McGuire's first year with Maine EPSCoR and she helped lead a robotics workshop, where she worked with Bragg to create coding activities, and a couple of "how to build your own robots" lessons. Her lack of experience with programming and robotics beforehand caused her to do some serious research into teaching kids about the subjects. McGuire says. "Laurie Bragg sort of gave me free reigns, as long as I was teaching within the topic of robotics."
Working under this project has been very beneficial experience-wise for McGuire. "It's given me a lot of insight into what kids are interested in, and how to really get their attention," she expresses. "I've also gained a lot of tools to use in the future.
"I never expected to have this sort of job, dealing with all this science content," McGuire states, "But it's been awesome because I'm learning a lot and working on things I can use in future jobs."