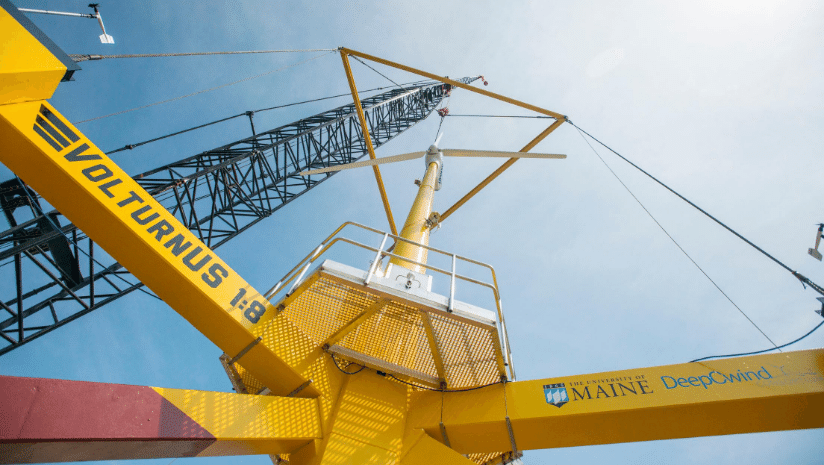 Faculty Spotlight: Andrew Goupee, UMaine Assistant Professor of Mechanical Engineering
by Liz Theriault, Maine EPSCoR Student Writer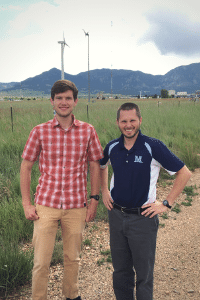 Dr. Andrew Goupee came to the University of Maine for his undergraduate career in the fall of 1999, and due to the various academic and professional opportunities UMaine presented, remained to complete the entirety of his academic career. Currently, Dr. Goupee teaches Strength of Materials; Dynamics; Mechanical Vibrations; Wind Energy Engineering; and Capstone Design in UMaine's Mechanical Engineering department.
Dr. Goupee's research aims to develop a more resilient and effective control strategy for offshore wind turbines that would enable higher energy captures and reduce fatigue loads. In the fall of 2018, Dr. Goupee was awarded an RII Track-4 award, which provides opportunities for non-tenured investigators to further develop their individual research potential through extended collaborative visits to the nation's premier private, governmental, or academic research centers. In the summer of 2019, Dr. Goupee traveled with his graduate student, Eban Lenfest, to the National Wind and Technology Center in Boulder, Colorado. There, Dr. Goupee and Lenfest collaborated with experts in wind turbine technology to expand their knowledge and secure additional awards from the U.S. Department of Energy, NASA, and the Advanced Research Projects Agency-Energy (APRA-E), totaling over $1.5 million in external funding to progress his research through these new grants.
Everyone knows the world is powered through energy. Around the globe, different energy sources are harvested to power everything from kitchen appliances to skyscrapers. But as the world moves forward, the need for cleaner energy capture is pressing, and inspiring innovative energy capture solutions. Dr. Andrew Goupee, assistant professor of Mechanical Engineering at the University of Maine, is contributing to that innovative energy capture through his research with offshore wind turbines.
Wind energy is one of the fastest-growing technical industries in the United States. Across the nation, wind turbines are being installed to harness natural resources and create clean energy. But researchers like Goupee are working to expand those capacities even more, by turning to a mostly untapped source of wind. Offshore wind turbines currently exist in mostly shallow areas of water where traditional fixed-bottom technologies can be employed. But for the state of Maine, coastal waters are often too deep for conventional technologies.
Offshore wind is Maine's largest untapped natural energy source, with more than 156 gigawatts of potential energy. To ensure that Maine does not miss out on capturing this powerful natural resource, Goupee is assisting in the development of floating offshore wind turbines. This new practice would allow for even higher levels of energy capture; however, it also presents new challenges in terms of unpredictable motion instabilities that could potentially harm the turbine.
To combat this, Goupee's research focuses on developing a new control strategy to increase the resiliency and effectiveness of floating offshore wind turbines. Beyond his work as an Assistant Professor of Mechanical Engineering, Goupee is also a Cooperating Faculty member at the University of Maine's Advanced Structures and Composites Center (ASCC), where he has worked for 10 years. At the ASCC, Goupee has been an integral part in the center's VolturnUS project, which resulted in patented floating concrete hull technologies that support wind turbines in water depths of 150 feet or more. This new technology has the potential to drastically reduce the cost of offshore wind, and incentivize investments in Maine's natural resources.
Floating offshore wind turbines are in need of precise control systems to ensure highenergy capture and reduce fatigue loads. Other floating technologies that do not require sophisticated control systems are often significantly more expensive, as they require an abundance of anchoring systems.
"Semi-submersible systems like VulternUS are the ones that are commercially going to be viable," explained Goupee. "And if we want offshore wind to grow, we need to take advantage of every technological trick that is available, to create a control system that keeps energy capture high in these windy environments, and more or less makes these devices more profitable."
To help his research, Goupee applied for an RII Track-4 Grant through Maine EPSCoR that provided funding to send to send Goupee and his graduate assistant researcher, Eben Lenfest, to the National Wind and Technology Center (NWTC) in Boulder, Colorado. There, Goupee and Lenfest collaborated with experts to advance their research. Goupee also was able to secure external grants through the Advanced Research Projects Agency-Energy (APRA-E), totalling $1.5 million.
Moving forward, Goupee expects the knowledge and tools he acquired at NWTC to extend through all his future work.