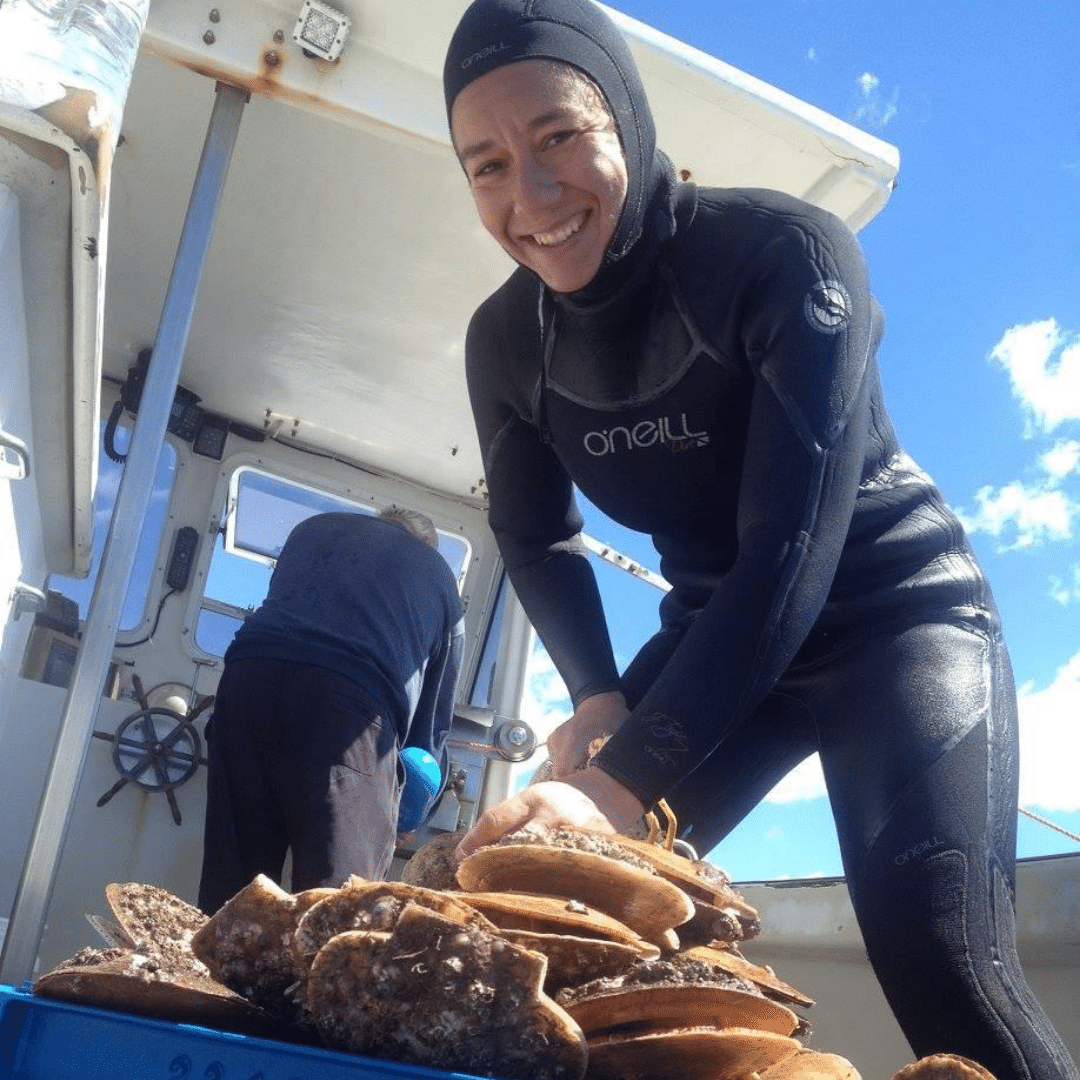 Meet Maine-eDNA: Phoebe Jekielek, Graduate Research Assistant
By Jane Horovitz, ME EPSCoR Student Writer
Phoebe Jekielek grew up in Punxsutawney, Pennsylvania, about seven hours away from the ocean. Ever since she was 10 years old, Jekielek knew she wanted to study marine biology, even though she was a little scared of what was in the ocean. The intimidation didn't stop Jekielek, but rather instilled a curiosity to learn and discover more through research, so she wouldn't be afraid.
After receiving an undergraduate degree from Boston University and spending a semester at the Marine Biological Lab in Woods Hole, Massachusetts, Jekielek found her passion for field work. 
"I'd rather be underwater collecting data than any other place in the world," Jekielek explains. "Except home with my family."
She then moved to California to teach an experiential science education program at the Catalina Island Marine Institute. This was Jekielek's first exposure to marine education. After that, she was hooked on doing work that allowed her to merge what she loved about being in the field with educating others.
Jekielek received a Dual Masters in Marine Policy and Marine Biology from the University of Maine. She spent a few more years connected to UMaine through her work at the Centers for Ocean Science Education Excellence (COSEE) and as a technician in Rick Wahle's lab at the Darling Marine Center (DMC). Finally, she ended up at the Hurricane Island Center for Science and Leadership, where she currently holds the title of Director of Programs and Research.
Hurricane Island has its own aquaculture site where they grow scallops and kelp. While working there, Jekielek has been able to see, firsthand, the growth and development of the aquaculture industry in Maine. As a result, a number of questions started arising in Jekielek's mind concerning how these scallop farms could be contributing to the wild population.
"By culturing these animals, what changes might be taking place biologically?" Jekielek questions. "What biological and ecological effects might aquaculture have on these organisms?"
When Maine EPSCoR's Maine-eDNA program received funding, it was perfect timing for Jekielek and provided an ideal overlap of her interests, so she applied to the UMaine School of Marine Sciences as a Ph.D. student and recently became a Graduate Research Assistant. 
Jekielek is co-advised by researchers Heather Leslie (Director of DMC) and Nichole Price (Bigelow Laboratory for Ocean Sciences), and is interested in developing eDNA tools to help researchers better understand reproduction and larval ecology of shell fisheries both in aquaculture and wild populations along the coast of Maine. Jekielek's Ph.D. project aims to develop eDNA tools to help better understand population dynamics from just a sample of water, such as how many gametes are in the water, what kinds of shellfish those gametes are from, and if the shellfish are adults or larvae. 
A key aspect of Jekielek's project is focused on engaging with stakeholders in the aquaculture industry and developing knowledge that is useful for informing where farms are located and how they are set up and managed. Jekielek believes that a better understanding of cultured scallops will help inform the scallop industry as a whole.
"I'm really excited to share and get input from our industry partners… and to have conversations with them about their perceptions of how [eDNA] tools might be useful to them," Jekieliek says.
Jekielek's hope for the Maine-eDNA program and the future of education and scientific research in Maine is to reach as many people as possible, ultimately developing tools and conducting research that are applicable to ensuring the sustainability and resiliency of the state. 
"I think the more work that we can do to advance STEM in Maine, the stronger we'll be as a state," Jekielek says.