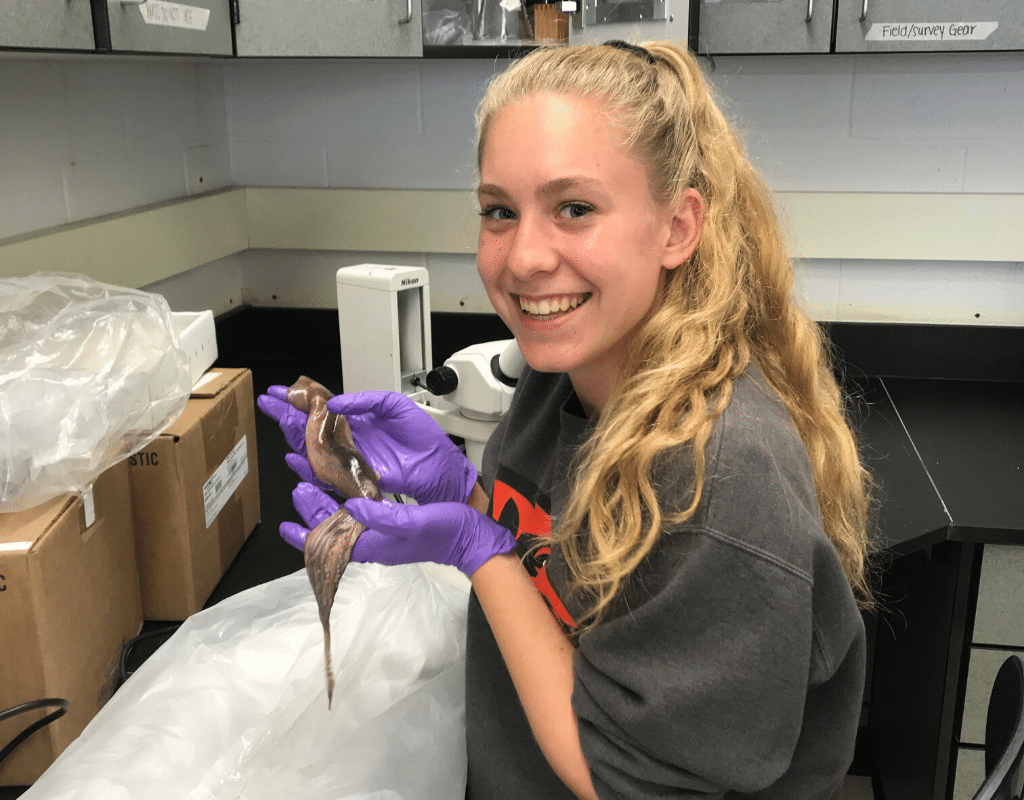 Meet Maine-eDNA: Julia Sunnarborg, Graduate Research Assistant
Jane Horovitz, EPSCoR Student Writer
It seems like Julia Sunnarborg has studied just about every animal, everywhere. She's studied whales in the Caribbean, birds in West Africa, lizards in the Solomon Islands, and frog specimens in a museum. Now she's off to her next adventure — in Maine. This time she will be working with seals and the fish that they eat. 
Sunnarborg isn't necessarily interested in specific species, but rather in the spatiotemporal variation of species, or how species interact with each other in space and time. Most of the projects she participated in throughout her undergraduate education focused on studying large scale ecological processes with a variety of species. She completed her undergraduate degree studying ecology, evolution, and organismal biology at the University of Kansas. Sunnarborg will be continuing her interest in spatiotemporal variation, specifically with seals and their food webs in coastal Maine waters.
Sunnarborg is pursuing a Ph.D. with sponsorship from the Maine-eDNA grant, working with researchers Christina Cammen and Michael Kinnison. Cammen's research concentrates on marine mammals, while Kinnison's research focuses on fish biology. Together, the two will help Sunnarborg's work in understanding how seals and fish interact in the state of Maine, as well as how that relationship will change over time. 
Sunnarborg is confident that use of innovative eDNA (environmental DNA) technology will make studying marine mammals safer and easier for both the mammals and scientists involved.
"I knew of [eDNA] but it's not something I saw being used regularly," Sunnarborg says. "It can be really difficult [for scientists] to study marine mammals, so coming up with a tool that's safer for the mammals, easier for us, less expensive, and more efficient, is really rewarding."
Growing up in the Midwest, she's also excited to move to the coast and spend time on the ocean conducting marine field work. Something that drew her to the Maine-eDNA program was the way in which she could conduct field work and collaborate with a team of interdisciplinary researchers. Sunnarborg is excited to work with a cohort of people conducting similar research, and her two different lab groups under Cammen and Kinnison will help her collaborate with a variety of graduate and eDNA students she might not normally have had the opportunity to work with.
"I really do think there's a lot of barriers to STEM that can be heightened when incoming college students see it. A lot of the intro biology, chemistry, [and] physics classes, if not done well, can be a huge barrier to even basic scientific understanding," Sunnarborg explained. "They're daunting classes for a lot of people and I really do want to see if I can help introduce people to STEM and make it less of such a leap, so that people can have less of a fear of the hard sciences."
In the future, Sunnarborg hopes to continue her interest in helping introduce students to the STEM field as a professor.