Meet Maine-eDNA: Lauren Crofton-Macdonald, Research Coordinator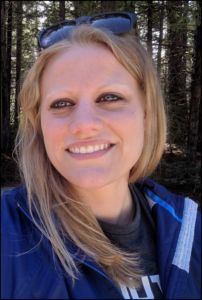 Lauren Crofton-Macdonald recently joined the Maine-eDNA team as the program's Research Coordinator. Crofton-Macdonald has been involved in the environmental DNA (eDNA) field since her undergraduate training at Viterbo University, where she received a Bachelor's degree in biology. She was introduced to the emerging field of eDNA during a summer internship at a United States Geological Services (USGS) facility at the Upper Midwest Environmental Sciences Center in La Crosse, WI. There, she worked on projects relating to invasive Asian carp species. She stayed on as a technician in the eDNA lab after graduating.
While she never envisioned moving to the Northeast, Crofton-Macdonald decided to pursue a graduate degree in Ecology and Environmental Sciences at the University of Maine, where she worked in Michael Kinnison's lab. Her research focused on developing and implementing eDNA technology as it relates to invasive northern pike in Maine waterbodies.
Alongside her graduate work, Crofton-Macdonald and her husband started their own CrossFit business, which grew quickly under her careful organization and strategic planning. According to Crofton-Macdonald, living and working in Maine is a great experience, as many Mainers share a love and admiration for the environment and being outside, which is similar to the lifestyle Crofton-Macdonald enjoyed "back home" in the Midwest.
It's also a key part of why Crofton-Macdonald pursued the Research Coordinator position with Maine-eDNA, as the program aims to answer invaluable questions directly related to Maine's aquatic ecosystems.
"I'm really looking forward to connecting people and helping the project move forward," Crofton-Macdonald says. "eDNA research is challenging, but exciting. It's still new, and every year, every month, even every week, there are new discoveries. We're right at the cusp of things."
According to Crofton-Macdonald, her first priorities will involve helping the program get organized and develop more streamlined processes.
"I'm introducing myself to a lot of people because I want people to know that I'm here as a resource. My job is to help relieve some of the burdens involved with collaborative research, which is key to our program."