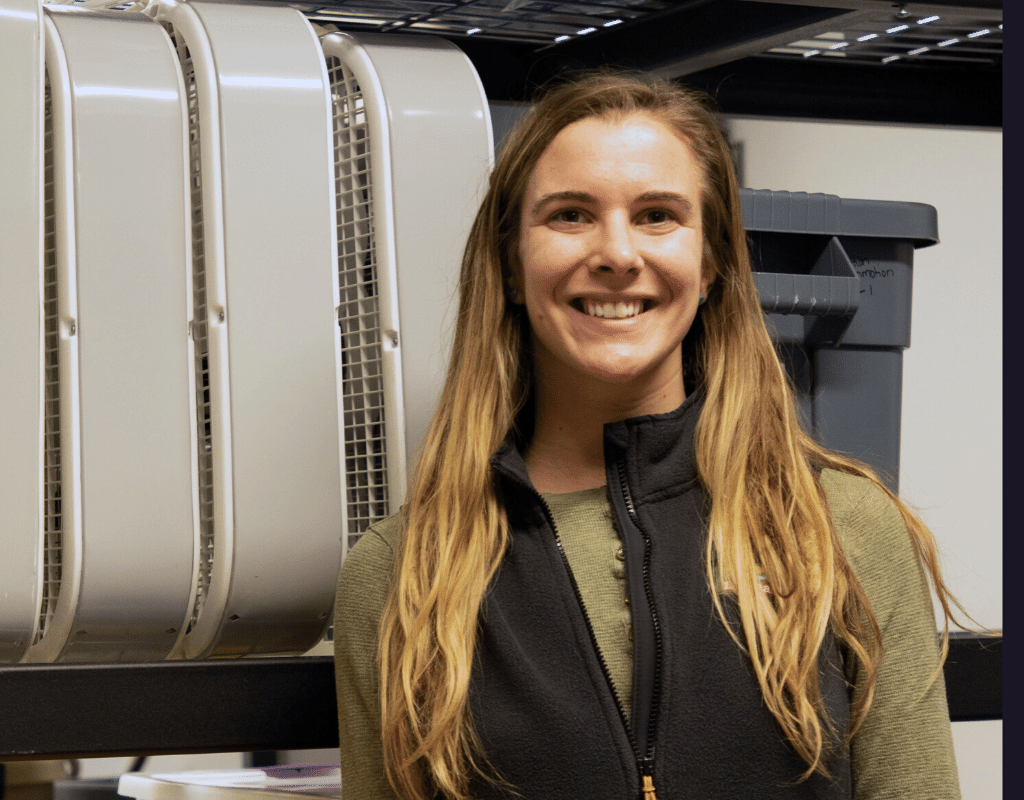 Student Profile: Gabrielle Brodek
Gabrielle Brodek is a student in the Master of Science in Teaching Program (MST) offered by the Maine Center for Research in STEM Education (RiSE Center), who is working as the Maine-eDNA graduate student with the UMaine Cooperative Extension 4-H office. Her current goal is to help develop education materials relating to the new Maine-eDNA project funded through an NSF EPSCoR Track-1 grant. This 5-year research, education, and outreach program seeks to transform the understanding and sustainability of Maine's coastal ecosystems through environmental DNA (eDNA) innovations.
Brodek, who is originally from Hampden, ME has performed research and taught at a variety of locations, including Trinidad, Tobago and Northern Maine, but moved back to the Orono, Maine area to pursue her MST.
"I thought I was going to be a professor, but after more research and then my teaching experience, I realized that I really enjoyed teaching kids in a K-12 setting," Brodek explains. "The MST program at UMaine was so flexible and Susan McKay [a faculty member in Physics and Director of the RiSE Center] found this internship for me and everything fell into place."
The main project Brodek is working on is the first eDNA toolkit. During the last Track-1 project, SEANET, the 4-H office worked with Maine EPSCoR to create curricula toolkits that can be used by educators, scout groups, summer camps, and afterschool program staffs. Each of the toolkits provides all the materials necessary for the delivery of hands-on learning activities for students. Educators throughout the state can borrow these assembled toolkits from their local county Cooperative Extension office. While the last round of toolkits mostly dealt with themes surrounding aquaculture as aligned with SEANET research, these new toolkits will deal with research pertaining to eDNA.
However, Brodek assures interested educators that you don't need to be an expert scientist in order to borrow a toolkit. "It provides you with all of the materials, so educators don't have to worry about purchasing them either," says Brodek.
According to her, the way in which life skills are incorporated into the development of the toolkits is incredibly useful and unique. The educational opportunity provided through the toolkits also opens up an inviting space for collaboration and teamwork, as well as an encouraging capacity for learning new things and playing well with science.
"I've become better acquainted with helping these kids break down boundaries," says Brodek. "For kids who aren't comfortable with science, it's awesome to see these lightbulb moments where science becomes less and less intimidating."
There's no shame in learning alongside your students, Brodek points out. "Having your students see that, as a scientist, you are always learning, is helpful." It's this type of attitude and insight that has led Brodek to keep searching for new experiences and new opportunities to learn and teach; to where she is today. "I like being a beginner of things," Brodek affirms.