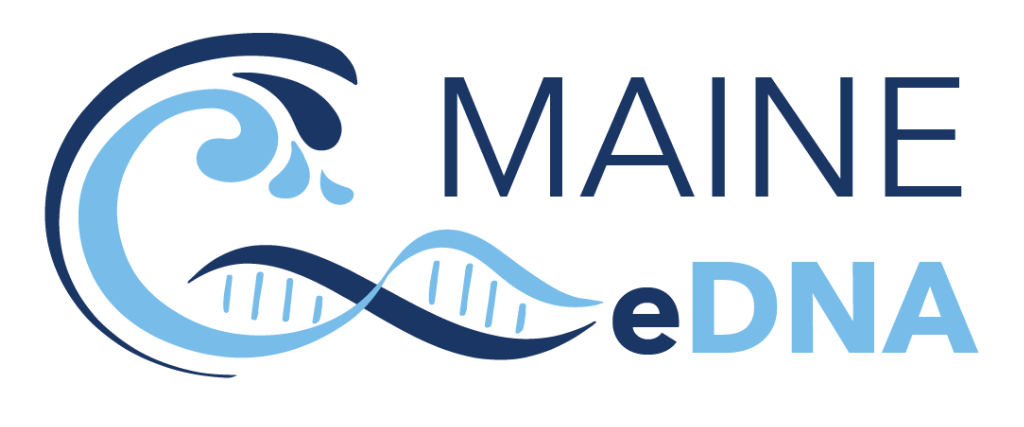 ME EPSCoR introduces the official Maine-eDNA logo
Maine EPSCoR is excited to introduce the official Maine-eDNA logo! After careful consideration and discussions amongst the Leadership Team, the program chose Tilan Copson, University of Maine Research Marketing and Communications Specialist, as the designer.
"Designing logos can be really fun, especially when there is a basic concept to work with," says Copson. "For Maine eDNA, there were two main concepts: a DNA strand wrapped into a circle and a cresting wave with DNA strands in the water. Working from there, I created about a dozen designs that followed those basic themes. But in the end, it was a merge of both of those that worked. In a nod to the EPSCoR logo, I wanted to merge the name and graphic more closely in a landscape layout. The result is that the waves flow into the word 'eDNA' reinforcing what is already represented in the graphic; that project personnel are extracting DNA from the water."
The logo is meant to represent the vision of Maine-eDNA: Make Maine 'the DNA Coast' – a world leader in eDNA-based partnerships, understanding, and sustainability of coastal marine and freshwater ecosystems.
Be sure to keep an eye out for the logo on upcoming promotional materials and project announcements.