The Senator George J. Mitchell Center for Sustainability Solutions
Marcella Silver, ME EPSCoR Writer  & Liz Theriault, ME EPSCoR Student Writer
Creating a Legacy of Solving 'Wicked Problems' through Team Science
Every day, students and staff pass by a large banner in the entrance to UMaine's Mitchell Center for Sustainability Solutions that displays a photograph of the center's namesake, Senator George J. Mitchell, and this quote:
"… the ethos of the Mitchell Center's work reflects one of my deepest beliefs: the importance of public service. The many faculty and students involved in the Mitchell Center have committed themselves to a goal larger than their individual lives: the goal of helping to build a better world starting right here in our own communities in our own state."
This important goal has expanded in many ways over time, but has always been at the core of the Mitchell Center's story.
Founding change: Building a center that tackles science in a new way
The National Science Foundation (NSF) created the Established Program to Stimulate Competitive Research (EPSCoR) to enhance the research and development capabilities of targeted states and other jurisdictions. Maine EPSCoR has succeeded in this mission by generating over 1,000 research positions and seven institutes and research centers throughout the state.
These centers have played an important role in building Maine's capacity for research and problem-solving. The Senator George J. Mitchell Center for Sustainability Solutions is no exception, having been closely involved with Maine EPSCoR and the NSF for the past ten years.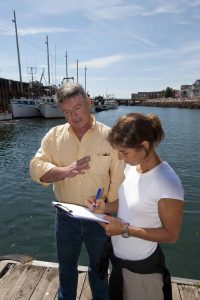 The founders of this center were a small group of innovative, interdisciplinary University of Maine researchers, searching for a way to transform scientific knowledge into societal action. All shared the same concern: How can our collective expertise contribute more effectively to creating a brighter future for communities in and beyond Maine?
This diverse group of economists, engineers, wildlife biologists, foresters, legal scholars, and social scientists collaborated on a proposal for a five-year, $20 million grant from the NSF. They received the Track-1 award in 2009, which launched Maine's Sustainability Solutions Initiative (SSI) leading to the creation of the Mitchell Center for Sustainability Solutions in 2014.
Their goal? To tackle some of Maine's most "wicked" sustainability problems, which by definition require a dual focus on improving human well-being and protecting the environment. According to the Mitchell Center's Director, David Hart, these types of problems are especially challenging because they have multiple causes that defy simple solutions, and because facts and values are often in conflict. Wicked problems like municipal planning or energy security, affect people in many different and disparate ways. Crafting solutions requires a wide range of scientific knowledge and real-world know-how, as well as innovative partnerships with diverse stakeholders.
Solving wicked problems with team science
To help alleviate Maine's wicked problems, Mitchell Center researchers needed to look at all sides of these sustainability issues by utilizing team science: a collaborative effort that leverages the strengths of interdisciplinary research to solve complex challenges.
"We realized that our effort to link knowledge with action has to include a focus on people," said Hart. "Just like there are experts in water, climate, and wildlife, there are experts in values, preferences, and policies and we needed their help."
After reaching this realization, the research team recruited colleagues and stakeholders from an even wider range of disciplines. Together, they assembled 20 research teams, and over the next five years, they played a significant role helping develop renewable energy solutions, improve town planning processes, and prepare for the arrival of the emerald ash borer, an invasive insect that threatens the livelihoods and cultural traditions of tribal communities.
In 2014, the NSF-funded SSI Track 1 project concluded and evolved into the Senator George J. Mitchell Center for Sustainability Solutions, which continues to serve as a a home for research that is stakeholder-engaged, interdisciplinary, team-focused and solutions-driven.
From 2013-2016, the Mitchell Center co-led a $6 million Track-2 NSF EPSCoR grant, known as the Safe Beaches and Shellfish Project. This project was part of a cross-jurisdictional partnership linking three EPSCoR states: Maine, New Hampshire and Rhode Island. These interstate collaborations focus on strengthening the use of science in addressing sustainability challenges across New England.
Stakeholders who are dealing with a wicked problem may view solutions through a single lens. For example, a business owner may see a community development or resource issue through an economic lens, while a conservationist may view it through an environmental lens. Their suggested solutions may seem incompatible or mutually exclusive.
Large scale challenges that stretch across many disciplines and impact areas cannot be solved by approaches that rely on a a single form of knowledge or approach. This is why interdisciplinary solutions need to be developed using team science.
"If you go in and try to fix just one part of the problem, it's very common to make another part worse. That's what people mean when they talk about 'unintended consequences'," said Hart. So the Mitchell Center seeks to develop solutions that consider all the pieces of the puzzle, and enhance the well-being of both people and nature.
Applying team science to the Future of Dams project
In places like Maine, natural resources are directly linked to the economy. While protecting the air, water, and land is important, strengthening local communities and economies is equally vital, so the goal is to find a balance between economic development and environmental protection that will keep Maine sustainable. The Mitchell Center was designed to respond to challenges like these and to develop a balanced approach.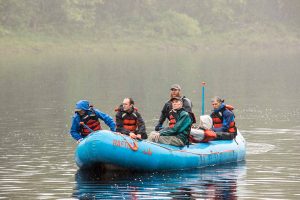 The Mitchell Center's latest NSF EPSCoR Track-2 project, The Future of Dams, is another example of how team science is being used to address an important sustainability challenge that involves a complex mix of issues and concerns. Supported by a $6 million, 4-year grant to the Maine-New Hampshire-Rhode Island collaborative is focused on developing decision-support tools that can help stakeholders find an effective balance among the the many environmental, social, and economic trade-offs associated with dams.
For example, iconic mill dams in New England are often in disrepair, raising safety and liability concerns. At the same time, hydropower dams are an important source of renewable energy, but they can adversely affect sea-run fisheries that are so important to communities and economies.
Recognizing that these issues exist throughout the world, the Future of Dams research team is using dams in New England as a "model system" to develop solutions that can work in many different places.They are investigating how various economic, political, ecological, and cultural issues are considered in decisions about removing or relicensing dams. Their goal is to improve the way that scientific information and tools are used in decision-making processes.
In recent years, Bridie McGreavy, a Mitchell Center fellow and assistant professor in UMaine's Department of Communication and Journalism, has identified innovative strategies for improving the effectiveness of team science.
"We developed a model on the Future of Dams project that we call Dynamic Design Planning," said McGreavy. Dynamic Design Planning involves gathering information about team and collaborator needs, preferences, partnerships and experiences through conducting interviews and surveys to provide feedback on the ongoing design of the organization. This helps team members strategize for team meetings, field trips, and in building stakeholder partnerships.
"We set up our organization so that we can keep our finger on the pulse of the collaboration as it develops," according to McGreavy. "Effective and equitable team science doesn't happen by magic. It requires careful planning, and different forms of social science have an important role in guiding its development." "
In turn, these interdisciplinary collaborations have provided the project's stakeholders with state-of-the-art information and models to help them balance the trade-offs that arise in decisions about dams.  When experts in numerous fields gather, all sides of the problem—such as comparing the benefits associated with hydroelectricity production with the costs involved in ensuring adequate fish passage—are considered in full.
"This is exactly the kind of problem where you need an interdisciplinary team with the right mix of expertise to help quantify trade-offs and identify promising solutions from multiple perspectives," said Sam Roy, a lead researcher for the Future of Dams project.
Of course, this wasn't (and isn't) always easy. Team science is not only about learning how to collaborate across disciplines, but also about learning which methods and problem-solving strategies will best facilitate progress.
Far-reaching projects, local benefits
Now that the Mitchell Center has made a name for itself in sustainability and team science research, it is becoming a highly sought-after resource, not only in Maine, but throughout the United States and the world.
Through these ongoing projects and institutional collaborations, the center is finding more opportunities to affect change on a larger scale by promoting strategies that ensure a brighter economic and environmental future.  .
Despite the expanding scope and reach of its work, the Mitchell Center also remains focused on the well-being of Maine's communities and natural resources. Even as it gains national and global recognition,  the Mitchell Center is committed to addressing the needs and concerns of its many local partners.
The Mitchell Center will continue to train creative problem-solvers, skilled in team science and equipped to develop innovative solutions to some of society's most challenging problems. And as this new generation of leaders and problem-solvers rolls up their collective sleeves, they will always carry with them Senator Mitchell's inspiring words about "…building a better world."