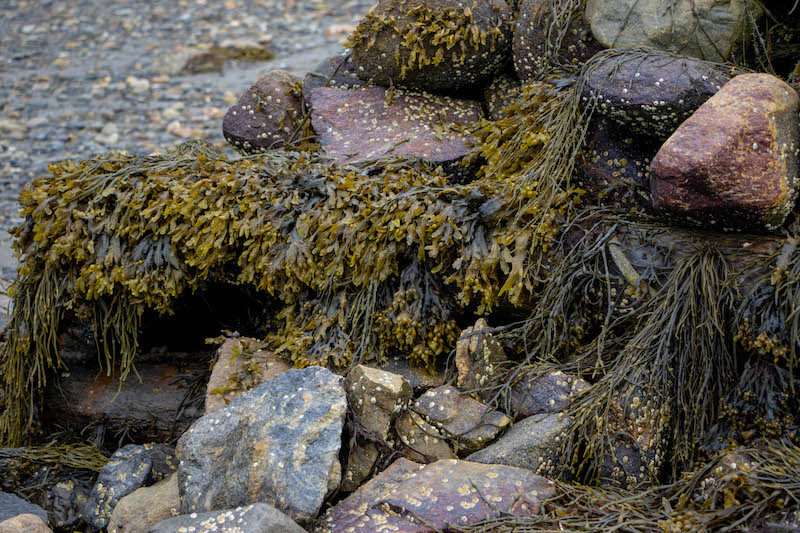 Machias Elementary School Gets a Full STEM Experience with Maine EPSCoR
Laurie Bragg, ME EPSCoR's Program and Outreach Manager, has been working with the Rose M. Gaffney Elementary School to engage fifth and sixth-grade students in marine-related STEM activities. Through this work, Bragg has supported various educational opportunities including, as of recently, a series of interactive lessons in the classroom and in the lab at the University of Maine at Machias as well as a boat ride out to a kelp farm in Eastport, Maine.
The collaboration between the Rose M. Gaffney School and EPSCoR was initiated after two of the school's teachers attended last summer's Seaweed Bootcamp. The teachers, inspired to bring STEM into the classroom, proposed a further collaboration with Maine EPSCoR to expose their group of students in Washington County to alternative career paths that they might not otherwise experience. 
Guided by Assistant Professor Jeremy Nettleton, the elementary school students toured the University of Maine at Machias' campus and the marine science facilities. While visiting, the students experienced first hand how science research is conducted at the university level. This tour of the campus followed a series of in-class lessons conducted by Nettleton at Rose M. Gaffney Elementary School, focusing on education around kelp and kelp food products. Nettleton taught students how to use microscopes to look closely at produce such as kelp, helping them to identify the makeup of the plants and their ecological benefits.
The experience impacted many of the students, some even saying that they enjoyed "being able to see what it would be like for [them] to go to college there."
In addition to this experience, students were invited out to the kelp farm of Elijah Bryce, a 16-year-old-student of Lee Academy, located off the coast of Eastport to experience the kelp harvesting process first hand. Bryce started his own kelp farm through a partnership with Marine Extension Associate at Maine Sea Grant, Chris Bartlett.
During their trip off the coast, students were invited to see how a kelp farm is planted, how it grows in the Maine waters, and how scientists and farmers like Bryce and Bartlett collect the kelp for industry and research. In addition, students collected and tasted kelp fresh out of the water, while also observing how aquaculture farmers like Bryce collect other sea life such as crabs and lobsters.
After the trip to Eastport, students wrote thank you letters to all those involved reflecting on their experiences. One student wrote, "I never knew so much about seaweed. It was so much fun! … I hope to have more fun with seaweed this summer at the beach." Another student noted, "I'm not sure what I want to be when I grow up, but now I think I'm going to do something that includes kelp."
EPSCoR's Education and Outreach Office continuously supports educational endeavours such as this one. Some of their other projects include curriculum toolkits to help teachers bring STEM into the classroom. This summer, they will be running interactive STEM investigations and activities for children at the Maine Discovery Museum in downtown Bangor as well as the Summer of Science programs in collaboration with UMaine's Cooperative Extension and 4-H.