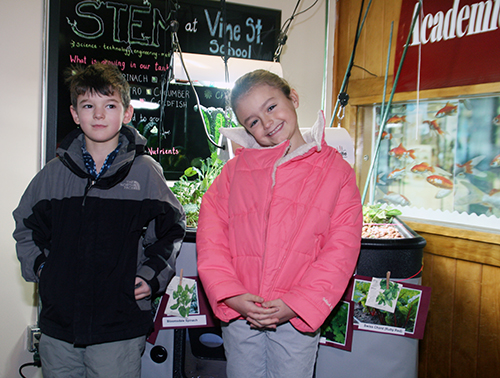 Vine Street School grows Tank to Table aquaponics program
Cilantro, basil and kale, oh my!
Vine Street School in Bangor harvested fresh herbs and greens grown in the lobby aquaponics tank for students and parents to take home for the holidays.
Aquaponics is the combination of aquaculture — fish or other aquatic animals being raised — and hydroponics — plants being grown in water.
The Tank to Table program, which has existed for about a year, is the brainchild of Jessica Muhlin, Caroline Noblet and Ryan Weatherbee, parents of students at Vine Street School.
The group received a seed grant from Maine EPSCoR at the University of Maine to set up the tank.
Noblet, an assistant professor in the School of Economics at UMaine, works with the Sustainable Ecological Aquaculture Network (SEANET) program and suggested the opportunity to the group whose children were in the same class.
Weatherbee is a research associate at the Satellite Oceanography Lab at UMaine and Muhlin is an associate professor of marine biology at Maine Maritime Academy.
The group approached first-grade teacher Annmarie Dionne with the idea.
"It's been amazing," says Dionne. "It's really been great for the whole school."
Principal Lynn Silk has championed the project, welcoming the aquaponics unit into the main lobby of the school and setting aside a STEM room where students can experiment and explore.
Although it's taken some time to see the fruits, and vegetables, of its labor, the group is pleased with the results.
"We've been experimenting with planting lots of different things," Muhlin says. "Kale seems to do really well. I think, in general, leafy greens and herbs do great. Consistently, most of the aquaponics literature I've read agrees with that assessment."
The group coordinated the tank project with the existing curriculum. When the children studied cycles, specifically the water cycle and the ocean cycle, it made sense to include that type of lesson in connection with the tank.
The school also has welcomed guest speakers to talk about various aspects of aquaculture as well as STEM-related careers.
Speakers have included Sebastian Belle, director of the Maine Aquaculture Association; Kim Huguenard, assistant professor of civil and environmental engineering at UMaine; Michael Pietrak, research associate with the USDA Agricultural Research Service at the National Cold Water Marine Aquaculture Center; Muhlin; and Dana Morse, Maine extension associate at Maine Sea Grant.
The group has connected with several community organizations, including the Challenger Center, Maine Discovery Museum, University of Maine Cooperative Extension 4-H and the Maine Science Festival. And it's looking at ways to fund a larger community project.
The organizers' children soon will be graduating from Vine Street and they invite more parents, teachers and community members to continue growing the program.
The Tank to Table team hopes its experience provides an example of positive school engagement. Members say they plan to continue supporting STEM learning in school.