Outdoor Leadership
About
The University of Maine outdoor leadership program takes advantage of the state's diverse and spectacular landscape to help students develop strong leadership and outdoor activity skills. Maine's outdoor resources serve as both classroom and teacher, preparing students for a variety of outdoor-oriented careers. Whether you complete the four-year outdoor leadership concentration within the kinesiology & physical education major, or the 19-credit minor, you'll gain the confidence and knowledge needed to safely lead outdoor activities for different groups in different environments.
Core Courses
The seven courses in the outdoor leadership minor also form the core of our four-year program. All outdoor leadership students will earn industry-standard certifications, including Wilderness First Responder and Swift Water Rescue. Students can take advantage of UMaine's connections to community and on-campus resources, including Maine Bound Adventure Center, the New Balance Student Recreation Center and local nonprofit and education groups. Core courses include:
Outdoor Pursuits and Adventure Activities
Outdoor Leadership and Facilitation
Paddling Instruction and Safety
Wilderness First Responder
Advanced Methods of Teaching Outdoor Activities
Ethics and Social Justice in Outdoor Leadership
Field Experience
The four-year program is interdisciplinary and builds off of the core curriculum. It includes coursework in education, exercise science, leadership studies, and natural resources. Highlights of this program include:
Science courses in biology, human anatomy, and natural resources
Interdisciplinary courses in Maine studies
Leadership theory courses
Nutrition and exercise science
Human development and educational theory
In addition, the four-year program allows students to dive into their passions in two ways. First, through 12 credits of self-directed study in skill- or experience-intensive outdoor coursework, students can travel to other UMaine System campuses to experience different environments or activities not offered at the flagship campus in Orono. For example, the University of Maine at Machias is located right on the beautiful Maine coast, and offers sea-based skills courses. Another option is for students to pursue a semester of outdoor studies in another part of the country or abroad.
The second student-driven component of our program is the capstone internship. This experience, designed by the student and supported by staff, allows every individual to gain valuable experience in a setting that will help them further their career or educational goals.
Careers
Students who complete either the outdoor leadership concentration in kinesiology and physical education or the minor in outdoor leadership will be prepared to work in a variety of fields and settings. Graduates are positioned for careers in nonprofit outdoor and experiential education settings, school-based physical and outdoor education, and other endeavors that involve wilderness travel and field work.
Be an "outdoor champion," and guide others toward the benefits of living a life outdoors…
Join UMaine's outdoor leadership program today!
To Apply
Applying for admission to the University of Maine is easy. Just go to go.umaine.edu/apply/
For information about joining the Outdoor Leadership minor:
Lauren Jacobs, Lecturer in Kinesiology and Physical Education
207.581.4930
lauren.jacobs@maine.edu
Hands-on experience in many outdoor activities, including:
Paddling: canoeing, kayaking, and stand up paddle boarding
Climbing: bouldering, rock climbing and challenge course participation
Winter sports: snowshoeing and cross-country skiing
Trail sports: hiking, orienteering, and mountain biking
Many more!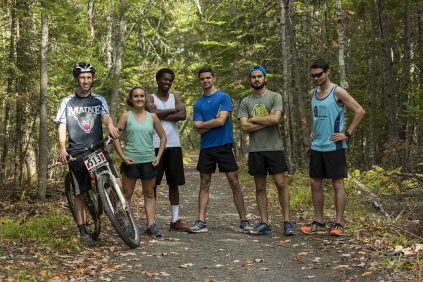 Connect with Outdoor Leadership