Volunteering Information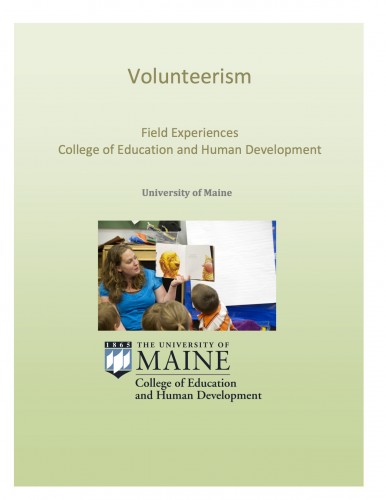 The College of Education and Human Development (COEHD) at UMaine is committed to preparing graduates to engage in ethical conduct, reflective practice, meaningful inquiry, and data-driven decision making, so that they grow as leaders within their professions.  We strongly encourage all COEHD students to be engaged in learning experiences with diverse populations beyond their required courses which will enhance their knowledge and allow them to practice the skills and dispositions needed to become contributing members of our diverse society and leaders in their professions.  Therefore, all students in the COEHD are encouraged to participate throughout their educational careers at the University of Maine in field-based learning experiences and volunteer opportunities with people of diverse backgrounds from their home communities or other communities, as well as in the communities around UMaine.
To assist students in identifying and participating in these learning opportunities while they are on the UMaine campus, we have provided a list of varied and diverse experiences beyond their required courses and a list of opportunities provided by the UMaine Bodwell Center for Service and Volunteerism within the greater Orono/Old Town communities.  The list of volunteer opportunities is not all-inclusive, but it does provide the coordination necessary to introduce students to the programs and the training required to be effective.  The field experiences on this list were also selected because they will be valuable learning experiences and will provide evidence of their community engagement on the students' resumes and in their educational career portfolios.
The College of Education and Human Development will provide special recognition awards for students who have shown outstanding achievement in their volunteer and field learning experiences by:
Volunteering frequently and consistently throughout their educational careers;
Participating in diverse settings and with diverse populations;
Receiving positive commendations or recommendations from their field experience supervisors; and by
Demonstrating engagement and positive impacts on learning in their field settings.
Students will be expected to upload all field experience information during their time at UMaine to the Tk-20 Unit Assessment System for tracking purposes to ensure that students encounter varied and diverse field opportunities while completing their educational program at UMaine.