The Lifespan Literacy Community — Programs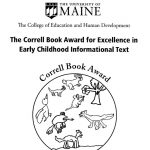 The Correll Book Awards are intended to bring attention to outstanding informational texts published for young children from birth to 8 years old. In so doing, the award committee hopes to shed light on the need for producing informational texts for this age group and to raise awareness of the need to build young children's world knowledge. Funding for this award was generously donated to the College of Education and Human Development by A.D. "Pete" and Ada Lee Correll through their named professorship in Early Literacy. The Correll Professorship, held by Dr. Susan Bennett-Armistead, seeks to advance early childhood literacy in Maine and the nation. Since 2014, there have been two awards: one for books for children from birth to age 3, and one for books for 4-8 year olds.
---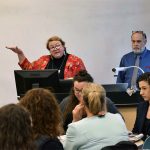 The Literacy Connections Conference is an annual event featuring professional development sessions and workshops on both childhood and adult literacy, as well as a keynote speeches by experts in the field. Typically held in May. Check the link above for the latest information and updates.
---
The Language and Literacy Play Partners program is a parent-child playgroup facilitated Sayoko Mori, M.S. in Human Development with the support of Susan Bennett-Armistead, Ph.D. The role of this group is to advance parents' knowledge of language and literacy development in their young children. Parents from the community are encouraged to join to learn more about the developmental domains, their child's own development and strategies to support that development through play-based experiences. Having this program on the UMaine campus serves the community as well as university students learning to work with learners experiencing literacy challenges. 
---
"What Now? What's Next?" is a collaboration between the College of Education and Human Development, Penobscot County Jail, Literacy Volunteers of Bangor and Riverside Adult Education Partnership to provide literacy and other education and social services to female inmates in the prison. The program allows women choose from a menu of services, ranging from help with completing high school and preparing for college, to child development and parenting classes, to one-on-one tutoring in reading and writing.