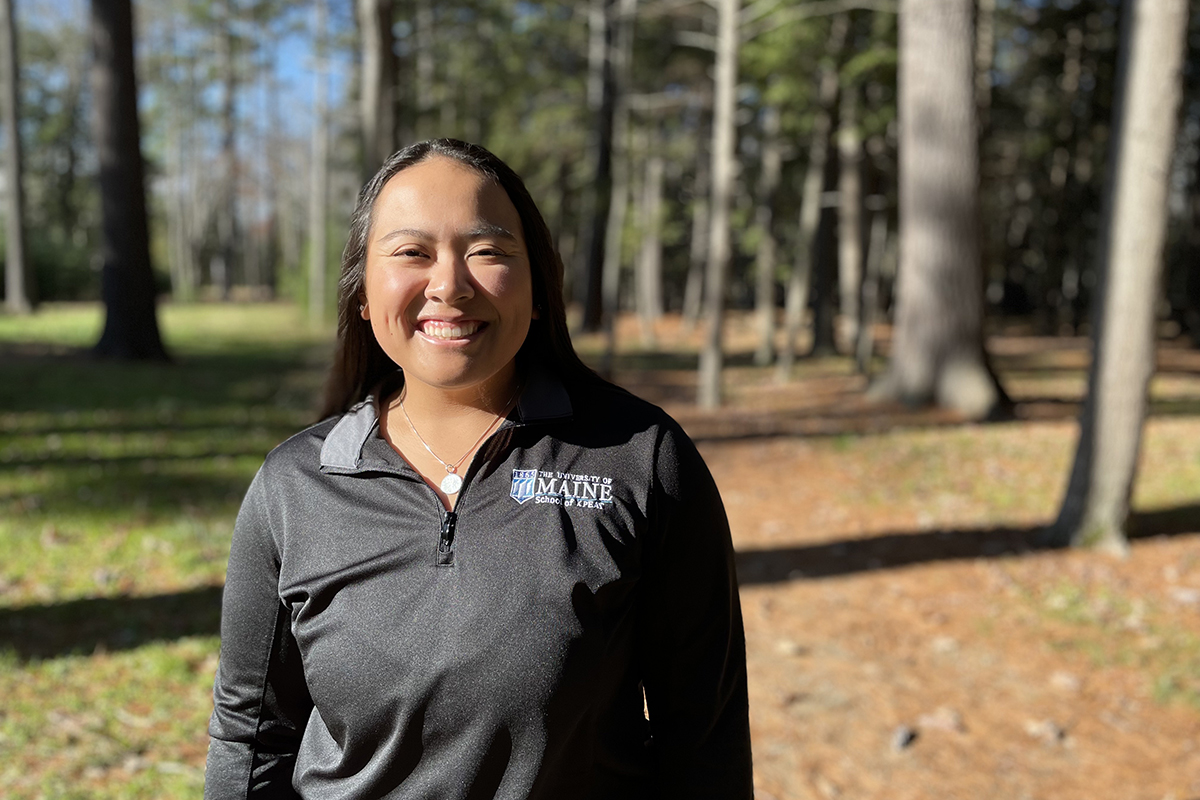 Kimmy Chhoeuk: Exercise science student set up to pursue career in physical therapy
When she graduates from the University of Maine next May, Kimmy Chhoeuk of Shrewsbury, Massachusetts plans to go directly into a Doctor of Physical Therapy (DPT) program.
Although she's not sure where she'll be continuing her education, Chhoeuk — a kinesiology and physical education major with a concentration in exercise science and a minor in psychology — already has options. She's been accepted to the DPT program at Tufts University near Boston and the Massachusetts College of Pharmacy and Health Sciences in Worcester. She's waiting to hear back from a few other schools where she applied before making a final decision.
"I just think movement is the best way to recover, and I want to help patients recover from injuries and improve their overall well-being," says Chhoeuk, who hurt her throwing arm while playing club softball a few years ago, which required physical therapy and led to her interest in the field.
Last summer, Chhoeuk interned at a PT clinic in her hometown, where she got to learn everything from the business side to the clinical side of a physical therapy office. The internship served as her senior capstone and reinforced her desire to pursue a career in the field.
"Being able to witness patients improve over weeks or months was so rewarding," Chhoeuk says.
At UMaine, Chhoeuk has gotten plenty of support from faculty and staff to keep striving toward her goals. Jesse Kaye-Schiess, a lecturer and advisor in kinesiology and physical education, and Shannan Fotter, also a lecturer in kinesiology and physical education, have been particularly helpful.
"Jesse has been there every step of the way, figuring out which classes to take and which opportunities to pursue, and Shannan wrote letters of recommendation for my DPT applications," Chhoeuk says.
She says the exercise science program offered everything she needed to succeed at her internship and gave her confidence as she applied to graduate programs.
"I've learned so much about the body and how it works," she says "In a lot of my classes, we work with clients one-on-one. We also learned about different methods and equipment that are used for injury treatment and prevention that I got to see in a real-world setting at the clinic where I did my internship."
Besides academics, Chhoeuk is the current president of UMaine Club Softball and is a member of the Physical Education Student Organization. She says she'll always treasure the relationships she's forged and the personal growth that she's experienced at UMaine.
"I met my roommates freshman year, and honestly those are going to be lifelong friendships," she says. "Also coming from Massachusetts, it was a comfortable distance for me, where I could go home for a weekend if I needed to. But I've also learned to live independently and figure out who I am and who I want to be."
Contact: Casey Kelly, casey.kelly@maine.edu.