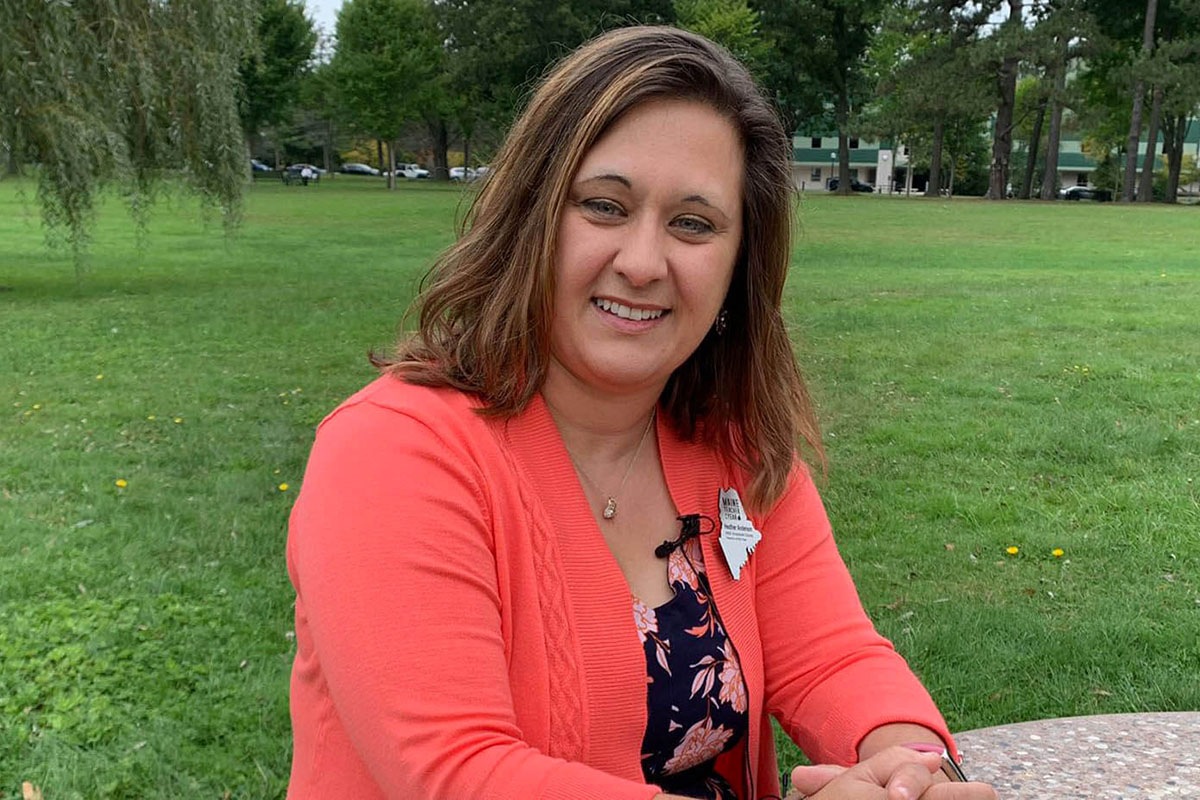 'Teaching is my calling': Heather Anderson, UMaine alumna and Aroostook County Teacher of the Year
Things have come full circle for Heather Anderson.
In the 8th grade, she decided she wanted to become a teacher. Now, almost 30 years later, she's in her second full year as an 8th grade English language arts and social studies teacher at Caribou Community School.
"When I was in the 8th grade, I was part of a leadership program that paired middle school students with community service projects. My project involved working in a local kindergarten classroom," says Anderson. "I loved working with the students so much that in high school I continued to volunteer. I knew this is what I wanted to do with my life."
She also jumped at other opportunities to work with younger children, such as volunteering with Big Brothers, Big Sisters.
"Teaching is my calling," she says. "Once I decided I wanted to be a teacher, I never really doubted it and I've followed my dream ever since."
When it came time to go to college, Anderson knew she wanted to major in education. Having grown up in Jay in western Maine, she could have stayed close to home and attended the University of Maine at Farmington. But she opted to attend the flagship University of Maine in Orono instead.
"I wanted to learn about and experience more than just how to be a teacher," she says. "At 18 years old, I knew that I needed to grow into being who I was going to be. UMaine was the perfect distance from home and it was big enough that it gave me an opportunity to discover who I was and who I could grow to be."
Anderson graduated from UMaine in May 1999 with a bachelor's degree in elementary education and a concentration in psychology. In July of that year, she was hired to teach kindergarten at the K–6 Connor Consolidated School in the unorganized territory of Connor, just north of Caribou.
"Steve Anderson, the principal at Connor, talked to the administration at the Bangor schools where I was a student teacher," she recalls. "Mr. Anderson asked me to come up to tour the school and offered me the job right on the spot."
"Connor was seeking a kindergarten teacher as well as a music teacher, and there were zero applicants for the music position" she adds. "I played piano and even though I wasn't a music teacher, this gave me the edge I needed. So during my first few years, I taught kindergarten in the mornings and then I would team teach with the other teachers to provide music instruction. I learned so much through this experience."
Anderson was at Connor Consolidated School for 21 years, teaching everything from kindergarten through 4th grade and eventually becoming the school's teaching principal for five years.
Then the COVID-19 pandemic hit.
"I was a relatively new teaching principal during the pandemic and it provided an opportunity for me to reflect on where I was at professionally," Anderson says. "I looked at what I was doing and realized I was spending less and less time with kids and more time with paperwork. And I thought to myself, 'This isn't really why I got into education.' At heart, I am a teacher."
Out of the blue one day, Anderson ran into her son's favorite teacher from Caribou Community School, Kim Barnes, who told her about an 8th grade opening at the middle school.
"That was a sign," says Anderson, who applied for the position and got it, starting her new job in the fall of 2021.
Less than a year later, she was nominated for 2022 Aroostook County Teacher of Year by Barnes, who herself was the 2019 Aroostook County Teacher of the Year.
Anderson was also a finalist for 2023 Maine Teacher of the Year, a title that eventually went to Casco Bay High School's Matt Bernstein. Still, she's using her year of service as County Teacher of the Year to advocate for students and her fellow teachers, especially surrounding mental health and well-being in schools.
"I've seen a fair amount of trauma in my students over the years and I've seen the impact it has on learning and teaching. My concern for my students' mental health has increased since COVID," says Anderson. "I've been able to meet with stakeholders, legislators and people at the Maine Department of Education who have the power to help address it."
In her own classroom, Anderson has incorporated social-emotional learning into her regular curriculum.
"We do a unit on resilience. Every 8th grader learns the attributes of resilience. For example, how do we persevere or develop flexibility in our thinking?" she says. "So, when we're reading novels or stories, our students are able to recognize those traits and think about how they can apply them to their own lives."
Her classes also are working on community service projects, like the one that inspired her to become a teacher. The goal, she hopes, is to spark a similar sense of purpose and passion in her students.
"Again, full circle. I really feel like I've come full circle in so many ways," she says.
Contact: Casey Kelly, casey.kelly@maine.edu