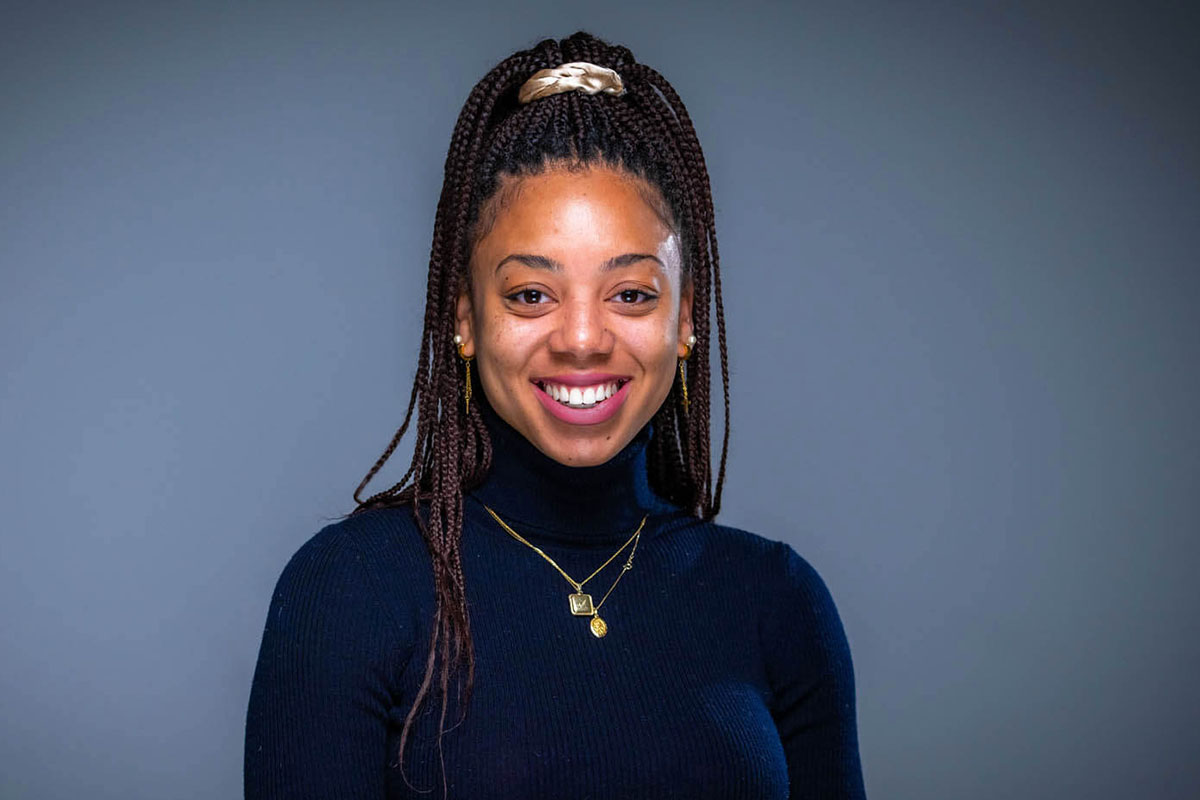 Tiana Bucknor is COEHD's Outstanding Graduating International Student
Tiana Bucknor of Milton, Ontario, Canada is the Outstanding Graduating International Student in the College of Education and Human Development. She is a kinesiology and physical education major, with a concentration in exercise science. Bucknor, a Presidential Scholar, is the senior captain of the women's soccer team and a member of the America East Student Athlete of Color Leadership Group. On campus, she serves as a chair on the Student-Athlete Advisory Committee, and is a student-athlete mentor/tutor and a peer tutor in the College Success program. Bucknor also is a teaching assistant in the School of Kinesiology, Physical Education and Athletic Training. In the fall, she will pursue a master's degree in kinesiology and physical education. After her graduate school work, Bucknor plans to play professional soccer, followed by a career in exercise physiology.
What difference has UMaine made in your life and in helping you reach your goals?
I cannot begin to express what UMaine has done for me as a student, an athlete and an overall person. When I transferred to the University of Maine, I had come from a place where I was very unhappy, was very lost in terms of what I wanted to pursue during my time as undergraduate and was not enjoying my time as an athlete. My confidence was very low, and I felt extremely alone on my overall path. The true interest and care that the coaches (Scott Atherley, Liis Abbott and Pete McDonnell) showed in my true well-being and growth as an athlete is something that makes me truly emotional. They helped me get back to my full form, and were patient with my setbacks and lack of confidence along the way. They were reassuring and took time out of their lives to stay with me after training sessions, in the office watching extra film, and help me work through my mistakes as opposed to leaving me to figure it out on my own.
Have you had an experience at UMaine that has changed or shaped the way you see the world?
There has not been one particular experience that I have had at UMaine that changed the way I see the world. Rather, the collection of experiences that I have had here in only two years have changed my perception on life and what it means to be truly happy. Coming to UMaine truly made me realize a very important life lesson — the environment you are in plays a crucial role in your overall happiness. It has given me a whole new sense of perspective on what it means to be truly happy and appreciated as an individual. I will carry this lesson with me for the rest of my life, and it will play a key role in determining what environments I choose to be in and those I choose to surround myself with as I progress through life.
Why UMaine?
I only needed one visit to be sure of my decision. Immediately upon arrival on campus and speaking with the kinesiology and physical education/athletic training staff, I knew that each of these individuals would be truly invested in my well-being and success as a student. Their words were genuine and their interest in my success as not only a student-athlete, but as an overall person was amazing. I knew that they would do everything possible to ensure that I reached my goals. This was the same with the coaching staff, who I knew would put in countless hours to ensure my success on the field. They believed in my leadership and drive to be the best athlete I could be.
How would you define the opportunities for student success at UMaine? Is there any particular initiative, program or set of resources that helped you succeed?
The opportunities for success at UMaine are truly countless. I have not even begun to scratch the surface of the opportunities presented to me, yet the few that I have had helped me so much. The Academic Center for student athletes has provided me with work and guidance, and I am truly grateful for that. The Kinesiology, Physical Education and Athletic Training  Department has provided me with an internship as well as great courses that will help me reach my goals. Career Services has helped me plan out my future on countless occasions as I struggled after transferring to figure out my path. The Center for Student Involvement has provided me with the opportunity to speak at the Dirigo Leadership Conference. The Athletics Department has helped me succeed on the field. The Health Center has treated me on countless occasions when ill. The opportunities for guidance and success are truly endless.
Have you worked closely with a professor or mentor who made your UMaine experience better?
There are so many people who have touched my life at the university. To name a few and give insight on what they have done: Jennifer McNulty and Robert Lehnhard have been true mentors to me on my path through the School of Kinesiology. Without them and their guidance, I would be unaware of all the opportunities I have. They do everything possible to ensure my academic success. Jesse Kaye-Schiess, my adviser, works constantly to ensure I am in the right classes and am on the right path. Jesse and Dr. Lehnhard have always said, "You cannot move through life unless your mind, body and spirit are intact." Their view of individuals as holistic beings has changed my outlook on life entirely. My coaching staff — Scott Atherley, Liis Abbott and Pete McDonnell — believed in me when I had almost no athletic confidence left and nursed this confidence back to health. They created an environment where it's okay to make mistakes and to just play freely while trusting in your qualities. I am forever grateful for all of these individuals and the others who have helped my growth since arriving on campus.
What advice do you have for incoming students to help them get off to the best start academically?
Reach out to your professors personally, right away. The relationships I have built with both Jen McNulty and Dr. Lehnhard have both been made possible by me reaching out to them and taking a deep interest in my learning. Be an active learner; do not just let college pass you by without taking an active role in your learning. Ask questions, be curious, challenge yourself to learn more in the environment you are in. Utilize your mentors whenever possible; they are there to help your learning. Get involved in things that inspire you on campus and things you are passionate about. It will truly make your college experience so meaningful.
Contact: Margaret Nagle, nagle@maine.edu